Hey guys! I have a special deal for you today! Educents is offering a 10% discount sale for my readers on their entire website!
For those of you who don't know about Educents, they offer a ton of homeschooling resources, including curriculum, books, parenting stuff and more. And they usually have great prices and deals all year long as well!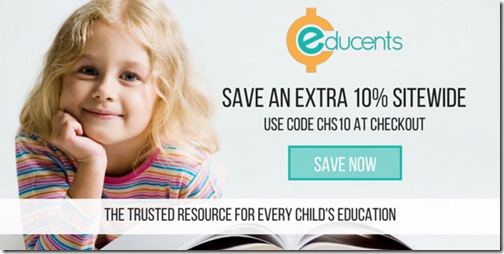 So to get your extra 10% off on the Educents site, just use the coupon code CHS10 at check out to get your discounted items!
NOTE: The discount code will be good through 3/31/16.
Happy Homeschooling!
Disclosure: This is not a sponsored post, just passing on some deals to share the homeschool love!