Well, I'm happy to report that we've made it through our first few weeks back to homeschool!
Even though we've been homeschooling for years, that first day and even first few weeks can be challenging! That first week is usually when I realize that I forgot to get a certain supply, someone's computer breaks, we run out of printer ink, and since it's all new, everyone needs me at the same time. It can be a little chaotic, but you know what? It's O.K.A.Y.
All of those things will get worked out and you'll fall into a nice routine that works for your family.
So I just want to encourage you, that if your first day of school didn't go as well as you had hoped, don't throw in the towel just yet!
Keep going homeschooler, you got this! I'll be praying for you!
In the meantime check out some of my helpful posts below:
Are you NEW to HOMESCHOOLING? Did you know that I have a ton of free resources on my blog to help you out?
Check them out below!
I also have a HELP BY GRADE LEVEL page with information for your specific grades.</p>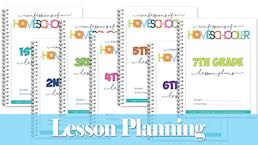 Happy Homeschooling and welcome back!