With so many people homeschooling, and doing online school I though it would be fun to share some of my top tips for managing online school at home.
We have homeschooled since our oldest was in preschool, this year she is a senior and I can't believe it! Once she started high school we added in some online classes to help get her ready for a more college level experience. I really wanted to make sure she was equipped to be able to manage her own routine, schedule, homework, study skills and so on.
It was a little bit of a change for me since I was used to being her primary teacher. While I really wanted her to become more independent, I also wanted to make sure I was still supporting her during the transition. So today I wanted to share some of what we've learned over the past few years and how I like to stay organized while overseeing my student in an online school setting.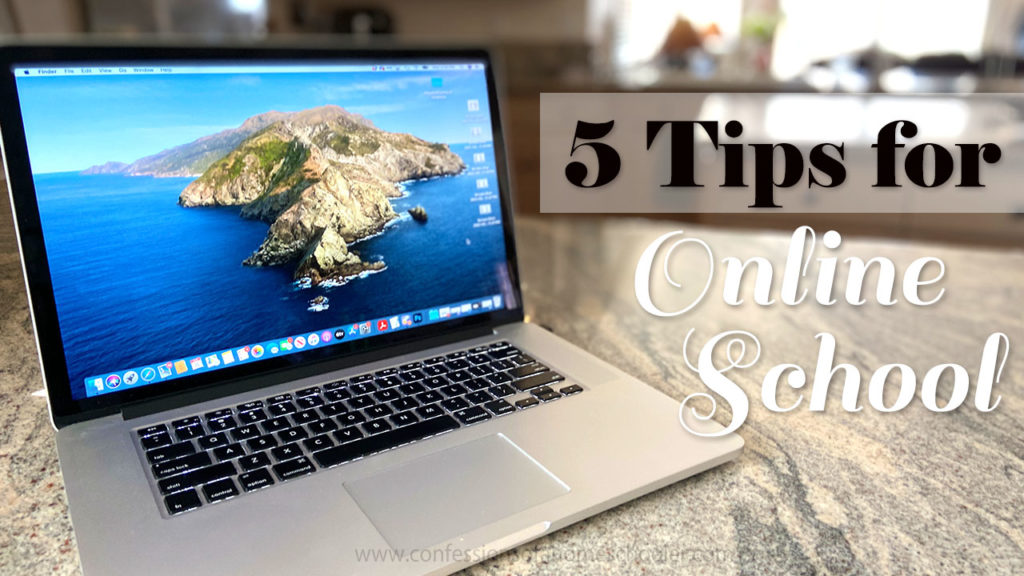 1. Create a Basic Daily Routine
I think the best thing we've done is to create a basic daily routine for our family. For example we get up, get ready, eat breakfast, go on a walk, then start school. We like to do our harder subjects in the morning, take a lunch break, and then finish in the afternoon with more fun activities like science experiments, art projects, and group activities.
We currently have two types of online schooling. One is student led, our kids can watch their video lesson any time of the day, so we tend to do those in the morning. My oldest daughter is also taking dual enrollment classes through a local community college which are giving her both high school and college credits at the same time. These classes are great, but some do have scheduled class times so she has to be online and available on their schedule.
Since we have a mix of class types, I wanted a way to make sure I was helping my older kids manage their online classes in conjunction with classes that I am teaching them. Since one of our goals is to help prepare them for college, make them more independent, and teach them study skills, and general time management this mix is working well for us right now.
I say all this to encourage you that you don't have to be all online, or all at home. Homeschooling is very flexible and you can easily do a mix of classes that fit your needs best.
Once you get into a good routine, do your best to stick with it. Keeping things consistent and familiar is probably the best way to help students feel comfortable and motivated.
2. Create a "School" Area
Creating an area for your kids to work on school assignments can be really helpful in motivating students to get their work done! When we first started homeschooling we did school in the kitchen. But we quickly learned that we had to clean everything up so we could eat meals. We eventually decided to set up a school area in our dining room where we had desk space for everyone and we didn't have to worry about cleaning it all up three times a day! Since then we have created an official school room that we work in daily. I have found that having a dedicated space helps get us in the right mood mentally to do our work.
But don't worry, you do not have to have a "school room" to do school in. Just find an area in your home that has decent lighting and a space for your kids to spread out.
3. The Right Tools For the Job
Online school can be great, but if you are struggling with technological issues, tripping over cords, and slow computers then it can be more of a road block than a help!
While I realize everyone's situation is a bit different, I do encourage you to make sure you have the right tools for online school to be successful. When we started homeschooling we had the "homeschool computer" and we all shared it. That was fine while our kids were younger, but now the thought of four kids trying to share one computer is just not realistic.
They all have online things that they do, and there's just no way they could share right now. We invested in less expensive laptops for them which has made my life, and theirs, much easier. We didn't get anything super fancy, but they are good enough to be able to watch an online class, write a paper, and meet basic internet needs. We also set up our work area so that everyone has a plug under their desk and we aren't tripping over cords, and as most of you have probably seen, they have their own work desk so we don't have to worry about space.
If you have a busy household, I encourage you to get some decent head phones for your online classes. This can really help block out distractions and let you kids focus on learning rather than all of the noises around them.
There is nothing more frustrating than trying to do an online class and having your video freeze, lag, or otherwise be troublesome. My husband is in charge of our "internet stuff". He makes sure that we have what we need for 5-6 people to be accessing online videos all at one time without our videos lagging, computers crashing etc. He also manages our printers so I don't have to do all of that tech stuff which is a huge help for me!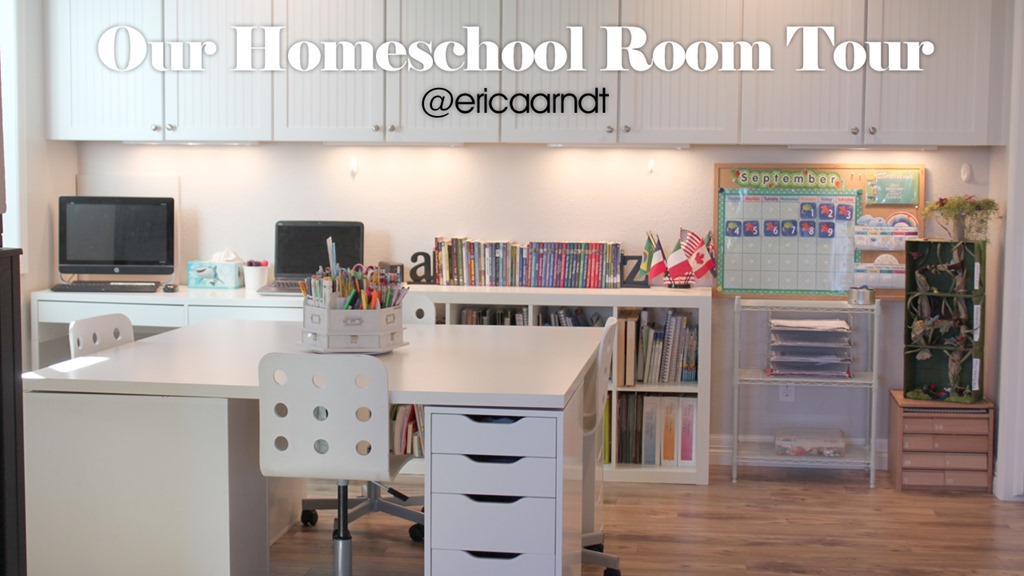 4. Daily Wrap-Up Meeting
As we have introduced more online classes into our homeschool schedule, we quickly realized that we needed a way to connect each day. I was feeling a little disconnected between what they were learning and how they were doing on assignments. I also wanted to make sure they were actually getting their work done, studying for tests and quizzes, answering any questions they may have, and making sure they were ready for the next day.
So we started having "daily wrap-up" meetings with our kids at the end of each school day. They aren't super formal, we just meet one-on-one for about 10-15 at the end of the school day. We discuss any questions they had, check to make sure everything was completed, and grade anything that needs grading together. If they need help with something we discuss that then as well. For my senior we just meet up for a few minutes and she fills me in on what she's got going on. How she's doing on assignments, what she has coming up, etc. Since I'm pretty much completely out of the picture for her college classes we just use that time as a check in to see how it's going. She's doing very well managing her own schedule and I'm so glad we taught her those time management skills early on!
Daily meetings have not only helped me stay on top of our workload, but they have also helped give my children a sense of accomplishment, take responsibility for their education, and learn how to manage their time. All things crucial to moving forward into higher education and life!
5. Be Flexible!
Online school can be a great asset to a homeschooling family. Especially for working parents, or families with multiple kiddos. Having a mix of teacher led classes vs online classes to help spread the load for all involved.
But one thing we have also learned with them is that flexibility is key. Like I mentioned earlier, my senior has dual enrollment classes, some of which are night classes. So we have just learned to be more flexible with her schedule. She gets her main classes done during the day, then she has a lighter load on her night class days so she can do homework or work during the day, then be available for class in the evening. And each semester has been a little different for her depending on what is offered, when it's offered, and what else she has going on.
Most of you know we do BJU Press Distance Online for a few subjects for my high schoolers. These classes are great, and we love them! I'm also still in charge of grading things via BJU Press, and I can adjust their schedules if needed. Sometimes they can include extra "busy" work and so we just take it as it comes and decide which activities are important and which we feel like we can skip.
I may also adjust their schedule if they end up with 3 major tests/assignments due in one day. Instead of doing them all that day, we will spread them out a little bit so they have time to study and not be too overwhelmed. Though we've also made it clear that mid-terms and finals are "a thing" and they need to make sure they're managing study time so they can be prepared and not overwhelmed.
If you have younger kids managing online classes I highly suggest you help them navigate the websites and make sure they are familiar with where to look for assignments, find video lessons, and how to turn in assignments as well. Navigating these websites can be tricky and so I really like to make sure they are comfortable with all of the ins and outs of the computer. School can be frustrating enough without all of the techy troubles! And if you are working with a school or online teacher, ask them questions! That's what they are there for, so if you are having troubles, make sure you talk to your teacher and get any of your concerns addressed so you can have a successful online learning experience.
All of that to say that even if you are doing online classes, you can still be flexible and make the curriculum work for you and not visa versa.
So those are my tips for staying organized and helping you and your students navigate the online school world. If you have any tips to share, make sure to leave a comment below!