Welcome to our World's Greatest Artists study, this month we learned all about Georgia O'Keeffe! We are having a total blast learning about famous artists and creating our own unique art as well!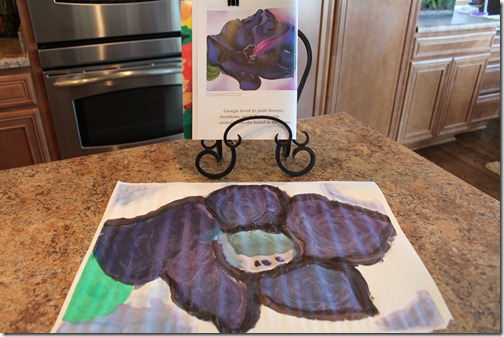 If you haven't seen the previous posts, this year for art we are studying 8 different world famous artists. We have chosen to do art twice a week, and we'll cover one artist each month. We're currently using my World's Greatest Artists Vol. 1 curriculum!
We took a few lessons and discussions to read through the Georgia O'Keeffe World's Greatest Artist series by Mike Venezia. We talked about all the different styles that she was known for, and took lots of time to familiarize ourselves with and critically assess her works of art.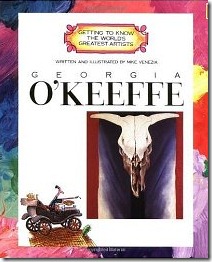 As we learn how to critically assess a piece of artwork, here are some of the things we discussed for each painting:
Describe what we see in this work of art.
How do they think the artist was feeling when they created it? Why?
How it makes your student feel looking at it?
Does the use of color help convey mood?
Is there something unusual or unique about the piece of art?
What is going on in the work, is there a story that can be told about it? (Each of them had a few minutes to share their version of what they thought was going on in the story with us.)
What kind of style and medium did the artist use in this work?
Overall do you like the painting, if so yes, why? If no why not?
We read through the book, and over the course of the month studied various different pieces created by Georgia O'Keeffe. Here is one of Tinker Bell's version of a landscape.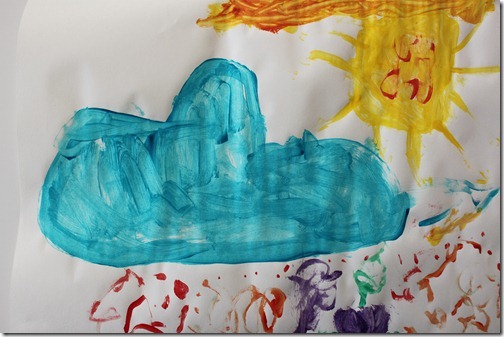 We all helped Strawberry Shortcake fill out our artist flashcard. We use them to review the artists we've learned so far as well as for a quick recall of their style and technique.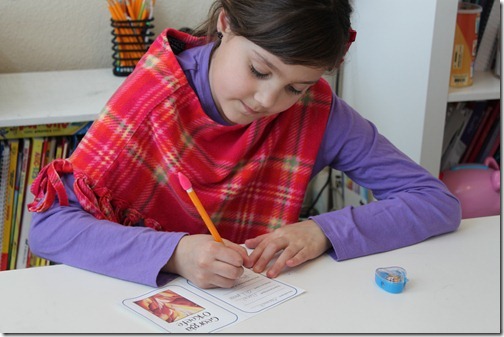 Then we laminate our card and add it to our World's Greatest Artists lap book.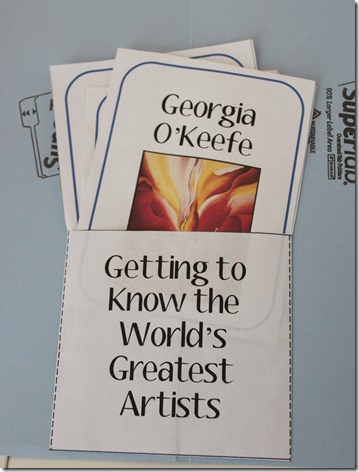 Everyone takes turns cutting out the pieces of artwork, then Strawberry Shortcake calls out which painting she needs for our Georgia O'Keeffe mini-book and whoever has it gets to paste it in the booklet.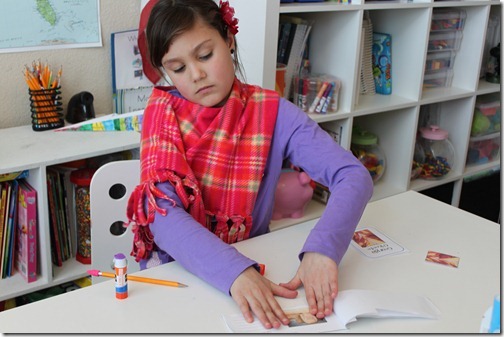 Once the mini-book is completed, it's added to our lap book as well. After each new artist, we use our lapbook to quickly review the other artists we've learned so far. We also discuss some of the different styles, what we prefer, and which pieces of art are our favorites so far.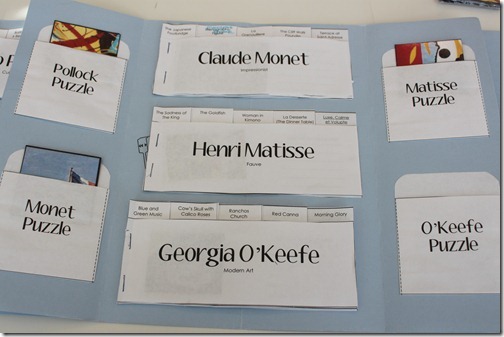 One of the favorite activities we do for each artist are the puzzles. I really should have printed more than one of these as there's always a line to do them. I've been interested to see how difficult the puzzles have been, we almost always need to use the book so we can see the artwork in order to get the puzzle together.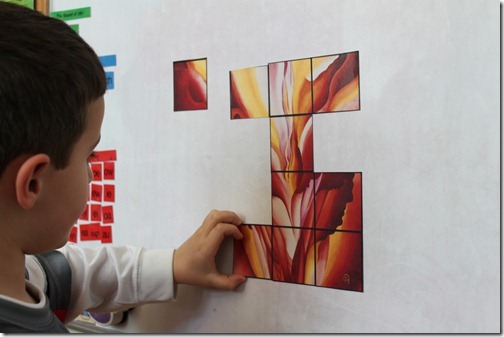 We always take our turn at creating some artwork either copying the artist, or using a style or technique that is unique to them. I've had several questions as to the boards I use for our painting backdrops. They're just simple mason chalkboards I found at Office Depot. One side is chalkboard, and I just tape our paper to the backside. It keeps the paper from moving around on them, creates a nice border once the tape is removed, and keeps my table a little bit cleaner.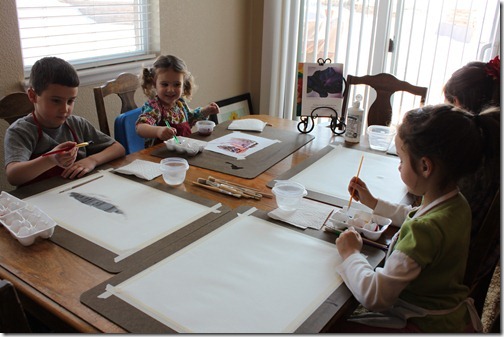 When we're done painting, I simply wipe off the boards with a wet towel. We always have our artist book nearby so that we can refer to it frequently throughout.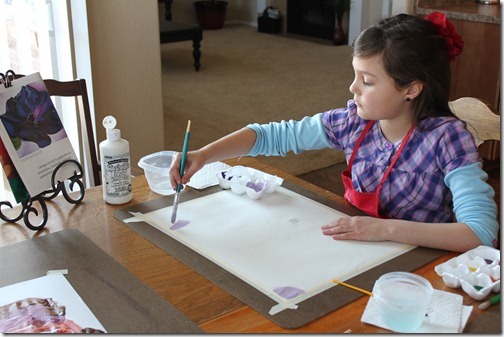 Tinker Bell chose to make her own landscape painting in honor of Georgia O'Keeffe's work, however did not copy a particular painting.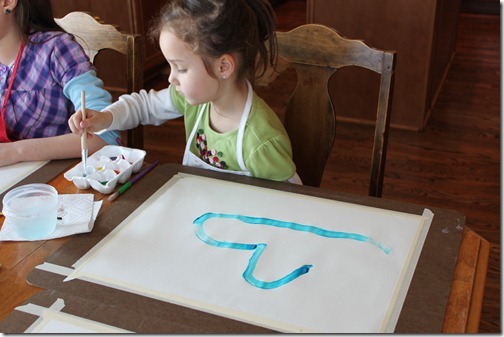 Turbo chose to do a replica of Black Cross, New Mexico. The Teeny Tot chose to do a more abstract version of, um, hmm…, I think it was a tribute to O'Keeffe's fluid blending of color. I think you can sense her depth of focus here.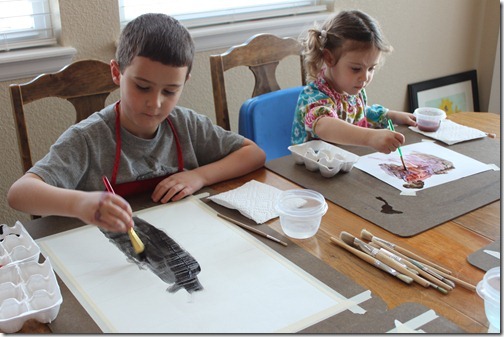 Here is Turbo's completed work, I think he did a great job!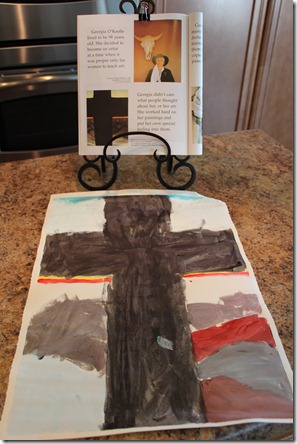 And here's Strawberry Shortcake's rendition of Petunia.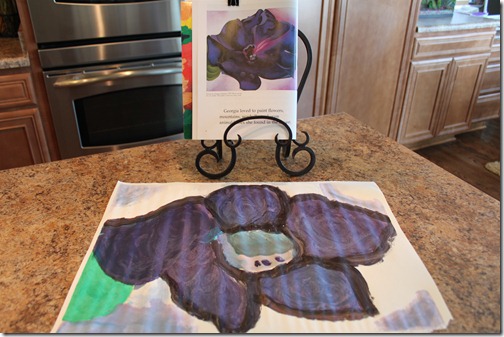 And that completes our study on Georgia O'Keeffe! I hope you are all enjoying your time learning about the world's greatest artists, I know we are! Click here to see the other World's Greatest Artists that we've covered so far!
Are you participating in the World's Greatest Artists, or have some O'Keeffe ideas you'd like to share? Make sure to link up below!
Click here to get The World's Greatest Artists Vol. 1