Hi everyone! I know several of you ask what I do for physical fitness in our homeschool, and for the last couple years we've used Family Time Fitness! The lessons are super easy, no weird or unusual equipment is required, and the kids love them!
Most of you know that I did a review and giveaway for Family Time Fitness last year,  you can read it here. Since we are having so much fun with this program, I wanted to do another giveaway for you! They are always very generous with giveaways for you all, and this time they're offering four Homeschool Platinum Fitness Packages!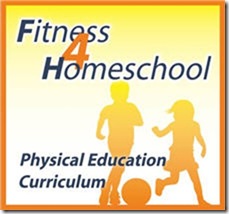 Family Time Fitness provides lesson plans for daily use, however we typically do it 2-3 times per week time allowing. I really love their focus on physical education, and even get reminder emails sent to my inbox to encourage me to do the lessons!
One of the things I like most is The Family Time Fitness YouTube channel.  Here you can see videos on all of the exercises to make sure you are doing them correctly, and also informational videos as well! Very helpful!
What does the curriculum include?
Each lesson is planned out for you from start to finish
Detailed instructions and videos to help you teach the skills
Easy to customize to your schedule
Motivational reminders sent to your inbox
Most activities can be done indoors or outdoors with minimal space requirements
30-45 minutes per day
Increases physical health and well being
Program develops fundamental movements, agility, and balance
Includes progress chart
Activities are progressive and sequential
Daily Food Diary
Grocery List
Meal Planner
Nutrition Log
Tracking Calendar
The Homeschool Platinum Fitness Package includes the above Core 1 Physical Education program, all of the K-5 workbooks, Fundamentals of Basketball Sports Module, and a Free one year subscription to the Home Educating Family magazine! That's a retail value of $249!
Ready to win??
Family Time Fitness is offering a Homeschool Platinum Fitness Package to 4 of my readers! Enter using the Rafflecopter below!
(Note: Entries through the comments on this post will not be counted, sorry!)