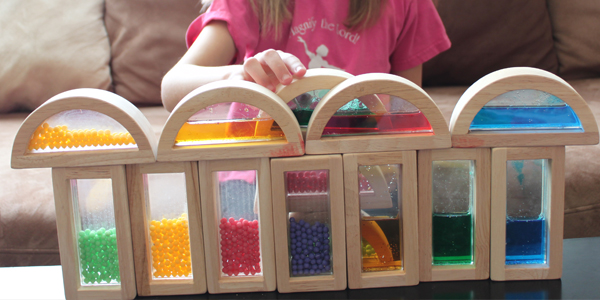 Hi everyone! Can anyone guess what today is? You got it, it's Guidecraft review and giveaway day, yipee! Today we're reviewing the Crystal Bead Blocks and Shimmering Water Blocks. We already had a set of Rainbow Wooden Blocks and so we just added these into our colorful collection!
My Teeny Tot absolutely LOVES the Crystal Bead Blocks. I guess all those little beads rattling around in there are fun! She always comes to me with the box of them and says "Me play with dose?"
The Shimmering Water Blocks are pretty cool too, I mean who doesn't like water sloshing around? The only complaint we had with those were that one of the blocks had leaked, so there was read dye all over a few of the blocks. Otherwise, I checked out the others and all were secure.
When we combined all of our blocks the kids had a great time building. It's actually a miracle that I got this photo with the Teeny Tot stealing back her bead blocks as my daughter was trying to build with them!
Would your kids love a set of Crystal Bead Blocks and Shimmering Water Blocks? Well, you KNOW the awesome people at Guidecraft are offering a giveaway for our readers! YAY!
I am part of the Guidecraft Mom Bloggers who are teaming up to write reviews for Guidecraft! We'll be doing lots of reviews and giveaways throughout the year so make sure to check back each month to see what we have!
Disclosure: I was provided me with a free set of Bead and Water Blocks to review on my blog. The opinions I have given are mine and may differ from others but were not influenced by the company or the free product provided.