Hi everyone! I've had so many questions on how to organize my K4 Kindergarten Curriculum. And since the Teeny Tot will be using it some this year, I thought now would be a great time to post on it.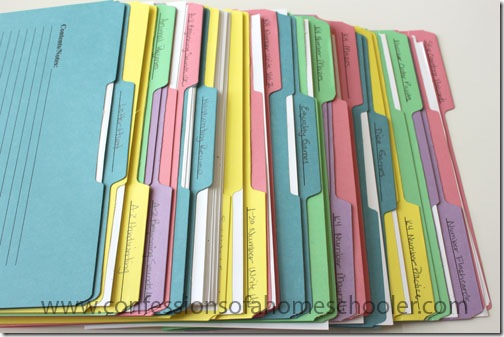 Since there are so many printables in this curriculum, I thought it would be easiest to keep each PDF together, then store each one into a file folder. As you can see above, I wrote the names of the printables on the tabs in pencil so I can reuse them.
For example the Letter Hunt Worksheets are in that first blue folder, then the A-Z Handwriting in the following yellow one, and so on.
For the things I wanted to re-use, I placed the pages back to back in page protectors then put them in 3 ring binders. This way the Teeny Tot can write on them with dry-erase markers, and re-use as needed for additional practice.
I have two binders for the re-usable sheets, one for phonics activities, and one for math activities.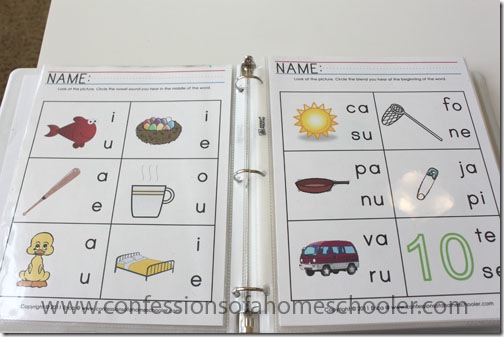 Anything that is related to phonics and is a game that i need to pre-cut or assemble I'm keeping in the phonics binder as well. That way it will be easy for me to pull them out as needed and I won't be cutting frantically at the last second trying to prepare her activities.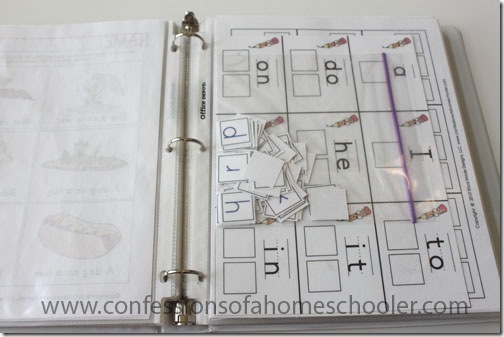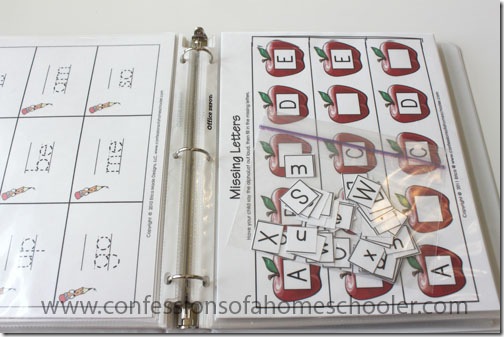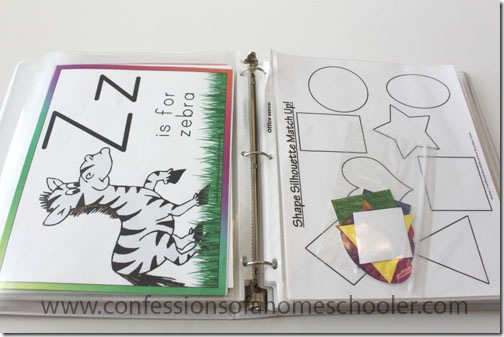 In the math binder I keep anything related to counting. Again, I've prepared these things ahead of time so they're ready to go.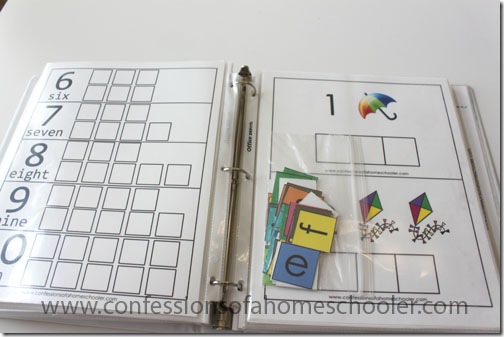 I plan to keep the file folders in something nice like this file box so they're easily accessible and I can find them quickly each day when I'm getting ready to fill her workboxes. The binders will be kept on one of my shelves near the file box for easy access.
ALTERNATIVE STORAGE IDEAS: Instead of using file folders, you might prefer to use 9×12 clasp envelopes. You'll need one folder for each PDF file plus a few extras for review games. Label them with the PDF file name, and place the pages for each PDF in it's respective envelope. Then place the review games in snack size or sandwich size Ziploc baggies and store them inside the appropriately labeled envelope. Store your K4/5 Kindergarten envelopes in a plastic file crate or on a bookshelf.
And that's it! You just need some folders, some baggies and page protectors and you're all set!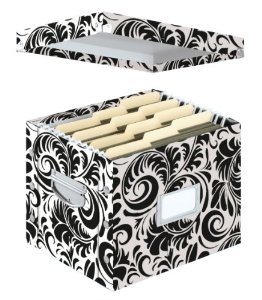 So that's it, my simple K4 Kindergarten Curriculum organization ideas. I'm sure some of you have already tackled this so if you found something that worked well for you, make sure to share it in the comments below so others can glean from your experiences!
The K4 Kindergarten Curriculum is great for kids age 4-5 who are kindergarten ready. The curriculum introduces beginning reading, math and handwriting skills, and prepares students to enter into first grade!