Good morning everyone! I've posted a couple pictures of these super cute hats on my Facebook recently. But I wanted to do a post on them as well since they were so fun and cute!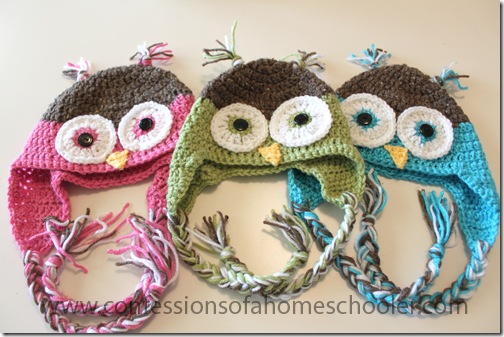 SoI know this is a homeschooling blog, but it's also fall. And as soon as that clean cool air hits me, I start feeling crafty.
That means it's difficult to get school done, because I just wanna make stuff. But, the stickler in me won't allow us to just skip school. So we finished school, then headed to the craft store to pick up some yummy colored yarn so we get started on this fun project!
Now, I'm not a master crocheter…crochetette…crochet person by any means, but this pattern was actually fairly simple to follow once you learn the stitches.
And thanks to YouTube you can really just learn how to do anything. So when a good friend (thanks Amy!) posted a link to these, well I just couldn't resist!
I used the pattern posted by Repeat Crafter Me. She has patterns for infant to adult so you can tailor it to fit your child's size.
And supplies are simple:
1 5mm crochet hook
1 Skein brown yarn (We used Vanna's Choice® Lion Brand medium worsted weight yarn in Barley. 1 skein yielded the 3 hats you see above.)
1 Skein accent color (We used the Vanna's Choice® Lion Brand medium in Sweet Pea, Pink Poodle, and I couldn't find a blue for Strawberry Shortcake in that brand, so I just found a Red Heart medium weight in Turquoise.)
1 Skein white (Vanna's Choice® Lion Brand medium in white.)
1 Skein yellow for nose (Vanna's Choice® Lion Brand medium in Duckie.)
Two 3/4" black buttons for eyes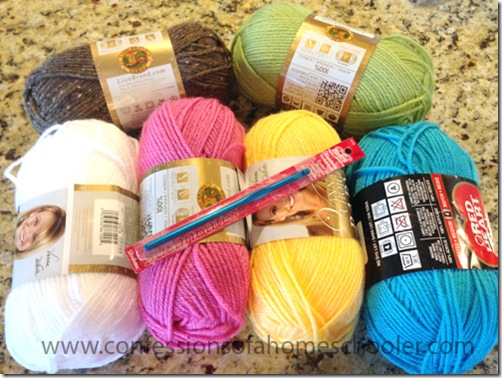 Some abbreviations you'll need to know to follow her pattern:
ch – chain
sl st- slip stitch
SC – Single Crochet
DC – Double Crochet
HDC – Half Double Crochet
HDC Decrease – Half Double Crochet Decrease
TC – Triple Crochet
If you haven't crocheted much I would encourage you to look up video tutorials on those stitches prior to beginning. There are plenty of them to choose from and I found them really helpful when starting the pattern.
You'll also want to watch the below video tutorial on creating a magic ring to help get your hat started. I found this DC Corochet Magic Circle Tutorial that starts with a Double Crochet and it helped greatly! Thanks Rebecca From ChemKnits!
Once you get the magic ring down, it's mostly smooth sailing! The only thing I'd like to say is that this isn't a mindless activity. It does require that you pay attention and count your stitches ;o) Not that I'm one to lose count…uhem…but I'm just sayin'.
I used the Toddler/Preschooler pattern for the Teeny Tot (age 4) and it fits okay, but is a wee snug. For TinkerBell I used the "child" pattern, and for Strawberry Shortcake I used the "Adult/Teen" pattern.
And now looking at these photos, I think I should scoot the eyes closer together…I thought they were close, but when the hat is stretched out a bit there is quite a gap…hmmm…well, you can learn from my mistakes ;o)
I also think I'd use a bit larger buttons for the eyes. I must have a loser gauge than most so I think the black is a little small for these large eyeballs!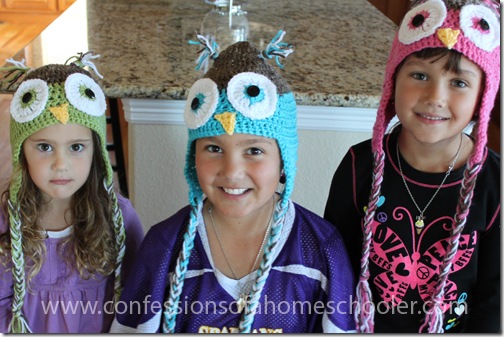 Since Turbo didn't exactly want to sport a crochet owl hat, I'm going to be making him a beanie with his favorite sports team colors. I'll post on that once I find a good pattern.
In the meantime, if you choose to participate in making these super cute hats, make sure to come back and leave a comment below or send me a photo! I'd love to see them!
Happy Crafting!