Shwmae & Hello!! This week we're venturing over to the United Kingdom as part of our Expedition Earth World Geography Curriculum!
This was a great week, we had a lot of fun crafts which always makes things more interesting, and we finished our week at an English Pub which meant I didn't have to cook dinner Friday and I consider that a good week!
And found it on our world map: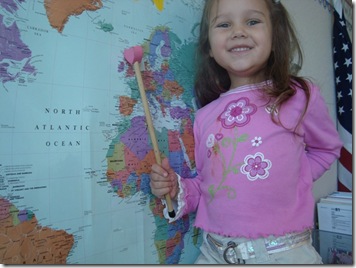 We also learned:
Where Great Britain is on the map, and found the North Sea
How to say "Hello" in Welsh– Shwmae!
Prayed for the British people
Sang a traditional English Song
Completed a lapbook activity
Completed and classified animals of Great Britain
Made  Quilling Paper designs
Learned about and made a small scale model of Stone Henge
Learned about Big Ben and made a paper model
Worked on a large foam World floor puzzle
Here are some of the highlights of the week:
My kid's favorite part of our Geography Units has definitely been learning about the animals around the world. Every week we learn 6 new animals and add them to our wall.
We took a virtual tour learning about Big Ben and made this small paper model:
Of course we learned a bit about the flag of Great Britain:
Learned about Stonehenge, found more information on Stonehenge then made a small scale recreation of Stonehenge with sand dough.
We also made paper quilling crafts. I have to admit this was harder than we expected it to be and I had to help quite a bit with rolling the paper, but we did manage to get a few cool designs:
Completed our lapbooking activity:
Worked on our large world map floor puzzle for fun:
And as usual if I can find a place that is even remotely authentic we head out to try the cuisine of our country! This week was an English Pub, which later we found out was actually an Irish Pub, but it's all good, at least I didn't have to cook LOL!
Of course we copmleted our week by stamping our passports and adding the U.K. flag!
Click here if you'd like to follow along with our Expedition Earth Geography Curriculum Journey!
Expedition Earth is a hands on world geography curriculum that covers 31 countries across the world. It is designed primarily for K-5th grade students. Students will learn the continents, oceans, people, cultures, animals, climates, try new foods, crafts and more, all through hands-on activities!