Hi everyone! I wanted to share a fun addition to our curriculum this year. As most of you know we've been using Abeka for our history curriculum. I love that the materials are a written to each grade level. It is easy for the kids to read, understand, and remember. And I feel like the amount of content covered each day is definitely good for their attention spans.
But what it isn't…is hands-on. And if you have been reading my blog for any amount of time, you know that I'm a fan of hands-on, interactive learning! Especially for history, which can be kind of dry, I like to add in fun activities.
So to help supplement that we've been adding in the Evan-Moor History Pockets and the Scholastic Interactive 3-D American History maps.
And right now Evan-Moor is offering free shipping on any online credit card order over $25, good through Jan. 31st! Use coupon code: SHIP114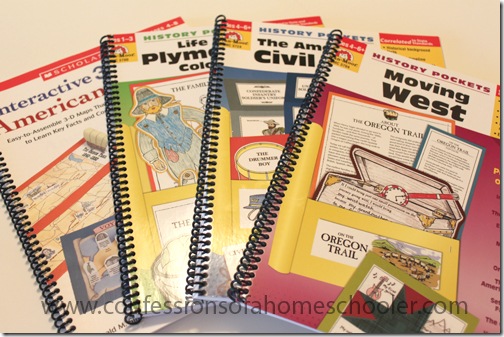 The history pockets come in several different themes, so I just picked up a couple that went with the Abeka scope for the year. And then whenever I can we add them in to our lesson for the day.
For each time period, the kids make a booklet from construction paper. The history pockets come with a title image for your book, and then smaller title images for each time frame included in the book.
As we progress through our Abeka lessons we add in one element from that pocket. So really it only adds a few extra minutes to our lesson for each day.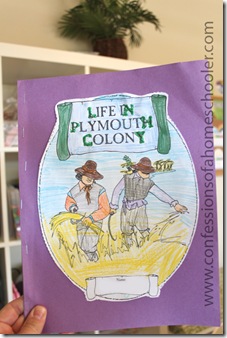 Here is one of our completed pockets for the New World. It has mini-books including the Mayflower Compact, vocabulary words, maps, a booklet with the story of the pilgrims, a Mayflower booklet with information on the ship, some facts about the voyage, and a chest that includes things they brought with them on the journey.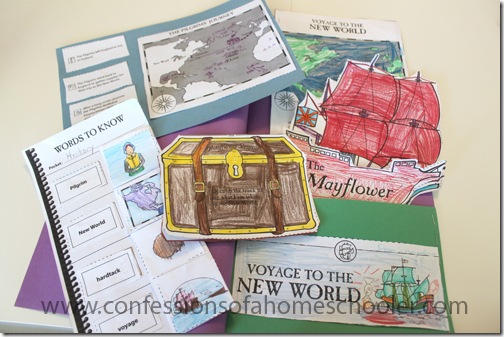 Then we also added in the 3-D interactive maps from the Scholastic book as well. So here added the "Voyage of the Mayflower" interactive map to our history pocket since it went well with our "Voyage to the New World" and all.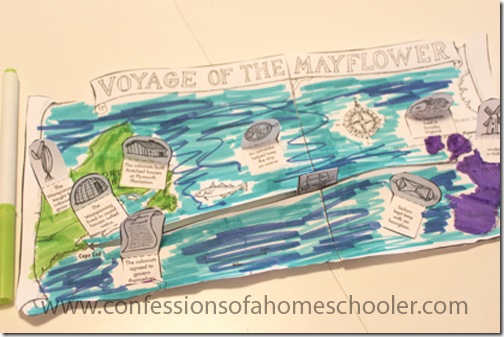 This little booklet was one of my favorites. Here's a close up of the Mayflower booklet. There are 3 pages that tell a little about the ship itself, and it shows a cross view of the ship so you can see the layers of how it was built. (It's hard to read the writing because Turbo colored the whole thing brown. But trust me it's there.)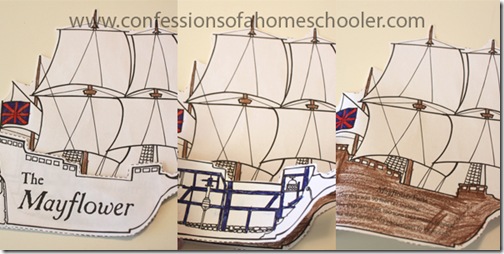 Each pocket comes with a "Words to Know" activity which highlights some key vocabulary for that event in history.
Here is another map I wanted to show you. It is the voyage of Columbus so we did it earlier in the year. I just add these in wherever they fit into our curriculum.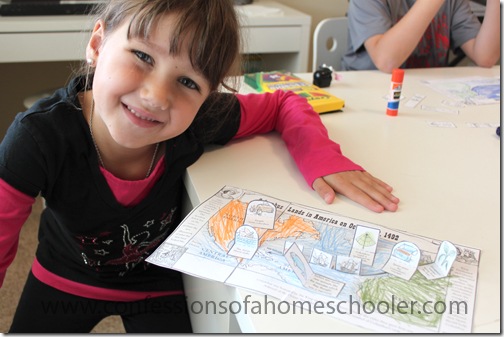 I'll share more of our history pockets as we go through them. The kids really like them, and they enjoy the more hands-on activities. I think it also helps to reinforce what they're learning in our curriculum, and gives them a tangible thing to play with and review.
As you can see, it's not too difficult to make your curriculum a little more fun!
Hope you enjoy, and happy homeschooling :o)
Disclosure: This post was not sponsored in any way. All products were purchased using our own money and I'm sharing them because we love 'em!