Shwmae & Hello!! Welcome to this week's world geography unit. We're meeting in the United Kingdom as part of our Expedition Earth World Geography Curriculum, I hope you will join us there!
We had some a few fun crafts this week which always makes things more interesting, and we finished our week at an English Pub which meant I didn't have to cook dinner Friday and I consider that a good week!
First we found the U.K. on our world map, and added our mini-flag to make our mark: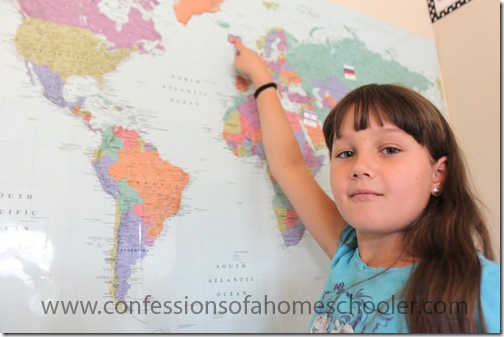 We also learned:
Where the United Kingdom is on the map, and found the North Sea
Fun facts about the U.K.
How to say "Hello" in Welsh– Shwmae!
Prayed for the British people
Sang a traditional English Song
Completed a lapbook activity
Completed and classified animals of the U.K.
Made  Quilling Paper designs
Learned about and made a small scale model of Stone Henge
Learned about Big Ben and made a paper model
Here are some of the highlights of the week:
We usually start off by learning how to say hello, then we try to use that as a greeting the rest of the day.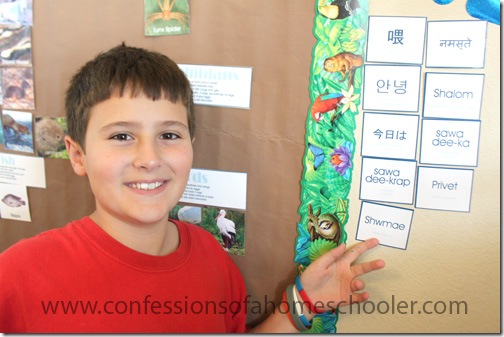 Everyone loves putting up the animals on our wall. It's starting to get full, but this continues to be a favorite activity.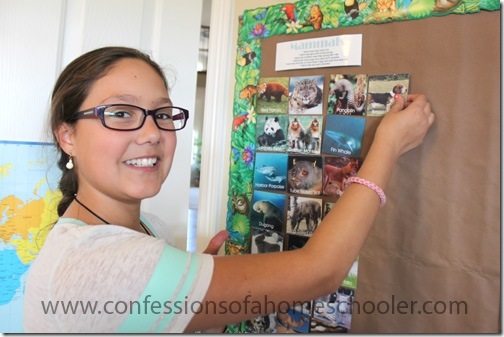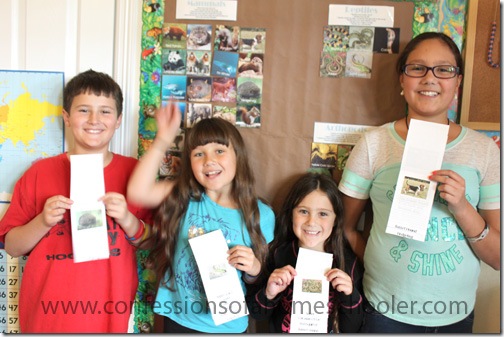 And the girls made fun post cards to send to friends and family back home telling all about our travels.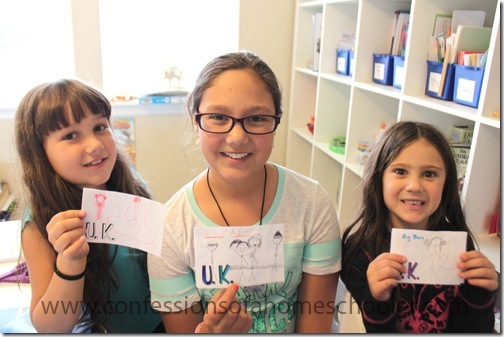 We added our mini-book to our world lapbook.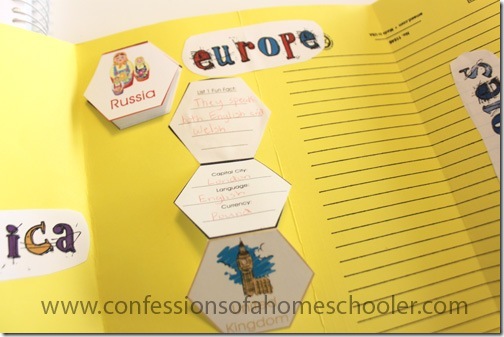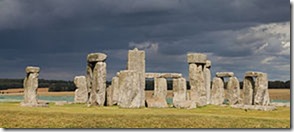 (Photo credit: Wikipedia)
Stonehenge is a historic monument in Wiltshire, England. While Stonehenge holds many mysteries, such as who built it, and what its purpose was, some believe it could have been a burial ground as deposits containing human bone have been found there. Its construction is also baffling because the materials used appear to have come from quite a distance, and no one is quite sure how they were brought there, or how the heavy stones (some weighing nearly 40 tons) were raised into their vertical positions. It is now thought that Stonehenge was constructed over a period of time, as stones were added slowly over time to the original design. Today it continues to be a main attraction drawing nearly 1 million people annually.
After we learned about Stonehenge, we also tried to make our own version out of self-hardening clay. As you can see Turbo had a small sacrifice in the center of his. Poor guy got beheaded. Oops!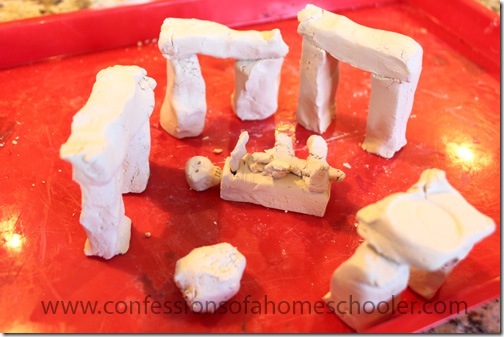 The Houses of Parliament, and the Elizabeth Tower, commonly called Big Ben, are located in London, England. The name Big Ben actually refers to the bell inside the clock tower, not the tower itself.  There are a couple of theories on how it got it's name. The first is that it was named after Sir Benjamin Hall the first commissioner of works whose nickname was Big Ben. The second theory is the bell was named after the heavyweight boxing champion at that time, Bejamin Caunt.
The bell weights more than 13 tons, with minute hands measuring 4.2 meters long. There are 312 pieces of glass in each clock dial and a special light above the clock faces is illuminated when parliament is in session. The time keeping is strictly regulated by a stack of coins placed on the pendulum. The clock has rarely stopped, even after a bomb destroyed the Commons changer during the Second world War. Not only did the clock tower survive, but Big Ben continued to strike the hours!
Since we couldn't travel there personally at this time, we enjoyed this fun Clock Tower Tour video instead!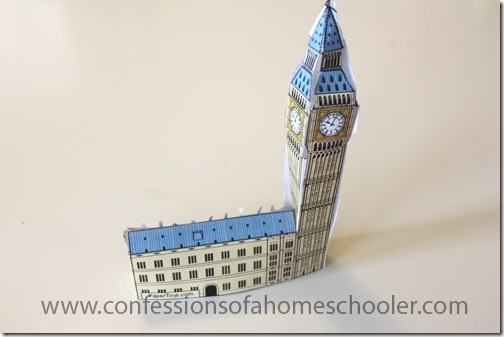 Here are some TBT picks from last time we went through Expedition Earth in 2010!
We made paper quilling crafts. I have to admit this was harder than we expected it to be and I had to help quite a bit with rolling the paper, but we did manage to get a few cool designs:
Look at how little these muchkins were!
Worked on our large world map floor puzzle for fun:
And as usual if I can find a place that is even remotely authentic we head out to try the cuisine of our country! This week was an English Pub, which later we found out was actually an Irish Pub, but it's all good, at least I didn't have to cook LOL!
Click here if you'd like to follow along with our Expedition Earth Geography Curriculum Journey! We're currently in Europe, but you can join in anytime!
Expedition Earth is a hands on world geography curriculum that covers 31 countries across the world. It is designed primarily for K-5th grade students. Students will learn the continents, oceans, people, cultures, animals, climates, try new foods, crafts and more, all through hands-on activities!