Hello and welcome back! Looking for some fun educational opportunities for February? Look no further, today I'm sharing my monthly holidays & fun days post!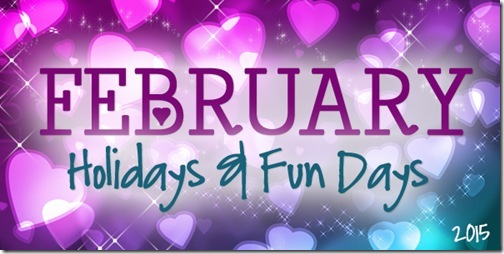 Everyone knows that this month is the month for love! But I'm going to warn you ahead of time, it seems February is also riddled with sweet treats, candy, pies, and other cavity causing days. Just a heads up.
I also have some great recipes and crafts coming up for you next week, so make sure to stick around. But today we're taking a look at what is going on this month, so let's get on with it shall we!
Holidays:
February 2 Ground Hog Day – The day the groundhog decides how much winter we'll have left. If he sees his shadow that means we have six more weeks of winter. No shadow? Spring is just around the corner!
February 14 Valentine's Day – The day we celebrate our loved ones with cards, candy, and special dinners!
February 16 President's Day (Third Monday of month) – Today we honor all of the U.S. presidents, especially George Washington and Abraham Lincoln.
February 19 Chinese New Years (Date varies) – The Chinese new year is a 15 day celebration beginning on the first day of the new moon, and ending on the full moon with a festival called the Chinese Lantern Festival. Learn more about the Chinese New Year here!
Fun Days:
February 1 National Freedom Day
National Freedom Day celebrates freedom from slavery, and America as a symbol of freedom. The day was established in 1948 as a symbol of freedom for all people as the 13th amendment ending slavery was signed on February 1, 1865 by President Lincoln.
February 3 The Day the Music Died
Take some time today to listen to a tribute to Buddy Holly, Richie Valens and the Big Bopper, who died in a plane crash near Clear Lake, Iowa on February 3,1959.
February 4 Thank a Mailman Day
Who doesn't love to get mail? Well, maybe not the bills and junk mail, but fun packages yes please! Watch for your mail person today and give them a thank you card, and maybe a sweet treat to brighten their day!
February 5 National Weatherman's Day
Living in Colorado, the weather can change every 5-10 minutes, so weather is news here. I can't tell you how many times we check our forcast to see what's coming down the pike. Take a little time today to discuss the weather, and check out these fun weather lessons for kids!
February 7  Eat Ice Cream for Breakfast Day 
(First Saturday of month, or every Saturday would be great too!)
February 8 Boy Scout Day
Today celebrates the birthday of the Boy Scouts of America. Scouting groups across America celebrate often with cake, or a campout!
February 8 Kite Flying Day
This is an odd choice for flying a kite. I would think it would appear sometime in the warmer months. Hmm…maybe some artic winds will blow our way and we can fly a kite in our snow gear ;o)
February 9 Clean out Your Computer Day
Honestly, I need to do this! With all of my blog posts, pictures, videos, and the like, my computer is a mess! It's just that I don't see it cluttering my kitchen floor so I don't notice! If you have  few minutes today, organize your online files!
February 9 Toothache Day
Probably due to all of the candy we've been eating this month! Go brush your teeth!
February 11 Don't Cry over Spilled Milk Day
I really needed this day last night. We'd just sat down for dinner and Tinker Bell spilled an entire glass of milk all over the table. Lovely.
February 11 Make a Friend Day
What a great day, head out to a local park and see if you can meet someone new!
February 12 Abraham Lincoln's Birthday
Abraham Lincoln was the 16th President of the United States. He was born in Hardin County, Kentucky on February 12, 1809. He led the United States through the Civil War, preserved the Union, and wrote the Emancipation Proclamation that ended slavery in the U.S. forever. He was later assassinated on Friday, April 14, 1865 by John Wilkes Booth in Ford's Theatre.
February 15 National Gum Drop Day
I'm not sure that we need another candy day in February, especially after the Valentine's Day celebration the day before. Hmm…If you're up for a dentist visit by all means, grab a box of gumdrops!
February 15 Singles Awareness Day
Have a single friend in your life? Make sure to send them a card to let them know you love them!
February 17 Random Acts of Kindness Day
I think everyday should be random acts of kindness day, but February 17th is dedicated to it! Challenge your kids to come up with something kind they can do for someone else today, and see who can be the most creative and thoughtful!
February 18 National Battery Day
Traditionally this day was designed to celebrate all of the cool uses for batteries. Turbo recently received a Snap Circuits kit for Christmas, and I highly recommend it! You can build some cool things with that, and it's great for logical thinking, and science lessons! But today, I also challenge you to clean out your battery drawer, bin, area, whatever. Get rid of all of those old batters, and organize them into sizes so they're easy to find. Make sure you have some 9 volts on hand for those fire detectors!
February 19 National Chocolate Mint Day
Notice that there's another sweet day in February, I think March should be visit the dentist month!
February 20 Cherry Pie Day
Okay, if you're all up for some more sweets, here's a yummy cherry pie recipe for you!
February 20 Hoodie Hoo Day
Now this day is interesting to me. First of all we're homeschoolers, and people probably already think we're a little weird. But apparently you're supposed to go out at noon and wave your hands over your heads and yell "Hoodie Hoo! Hoodie Hoo!". Um, no.
February 20 Love Your Pet Day
We love our pets everyday, but maybe we'll give them a little extra treat today! Head out and play a little with your furry (or not so furry if you're into reptiles) friends today!
February 22 George Washington's Birthday
February 22, 1732 marks the day our founding father was born. George Washington become Commander in Chief of the Continental Army in 1775, and fought hard for our freedom from British rule. He was elected president by the Constitutional Convention in Philadelphia in 1787 and served until 1797. He returned to his home in Mount Vernon, Virginia where he died on December 14, 1799. His most famous quote was "I cannot tell a lie…I chopped down the Cherry Tree!"
February 22 Walking the Dog Day
This one is pretty self explanatory, but today's the day! If you have a doggie, head out and walk them! hopefully you already walk them everyday! No dog? No problem, grab a Yo-Yo and practice the "walk the dog" trick!  Don't know how? Check out this fun walk the dog video.
February 22 International World Thinking Day
This day is set aside to give everyone a chance to think of each other. It's typically focused on giving thanks and appreciation to the women in our lives, but I think we should include everyone and if there is something we can do to bless another person, take time today to do just that!
February 24 National Tortilla Chip Day
I'm going to call this national tortilla chip and salsa day. Yum.
February 26 National Pistachio Day
Well now this just sounds a little nutty to me! But hey, who am I to argue, pistachios for snacks everyone!
February 26 Tell a Fairy Tale Day
Gather around in a group, and have fun reading some of the great fairy tales of our time! Need some ideas? Check out this website with a list of great Fairy Tales!
February 27 Polar Bear Day
I love polar bears, they're so cute and fluffy! And I happen to have a great polar bear art activity for you today, so hop on over to my polar bear art post and have a little fun!
February 28 Floral Design Day
Designing floral arrangements is harder than it looks! We did this activity with our Keepers at Home group one month and the girls loved it! Maybe we'll head out today and gather some flowers, then take them home and do a little arranging ourselves! Supplies: Vase, green floral foam, scissors, flowers, filler like baby's breath or foliage.
February 28 Public Sleeping Day
I think in another day and age this would've been a great idea, or maybe at a park. But now a days I'd be worried someone would come up and steal my purse! Or draw on my face with a sharpie. Maybe I'm just jaded.
February 28 National Tooth Fairy Day
The funniest note I ever received was a letter from my oldest to the tooth fairy. It explained how she lost a tooth, but then literally lost the tooth so it wouldn't be under her pillow that night. She hoped that the tooth fairy would still leave her money in lieu of the missing tooth anyway.  Sadly, the tooth fairy was tired that night and forgot, so she left a note saying that the tooth fairy was out of money, but would stop by tomorrow night for sure. Thankfully my kids also know that I'm the tooth fairy and are very forgiving. What do you do for lost teeth in your home?
Psst… Stay tuned for 2016 where we'll have the February 29 Leap Day!
See you next month for another exciting list of random fun days and holidays, hope you enjoy!