Hey guys! Today is the LAST day for my 40% OFF sale! Unfortunately sale prices will not be honored after tonight at midnight MDT, so make sure to get your orders in before then! I'm also doing a different giveaway each day, so if you missed my previous posts for this week, you may want to go back and enter to win the giveaways!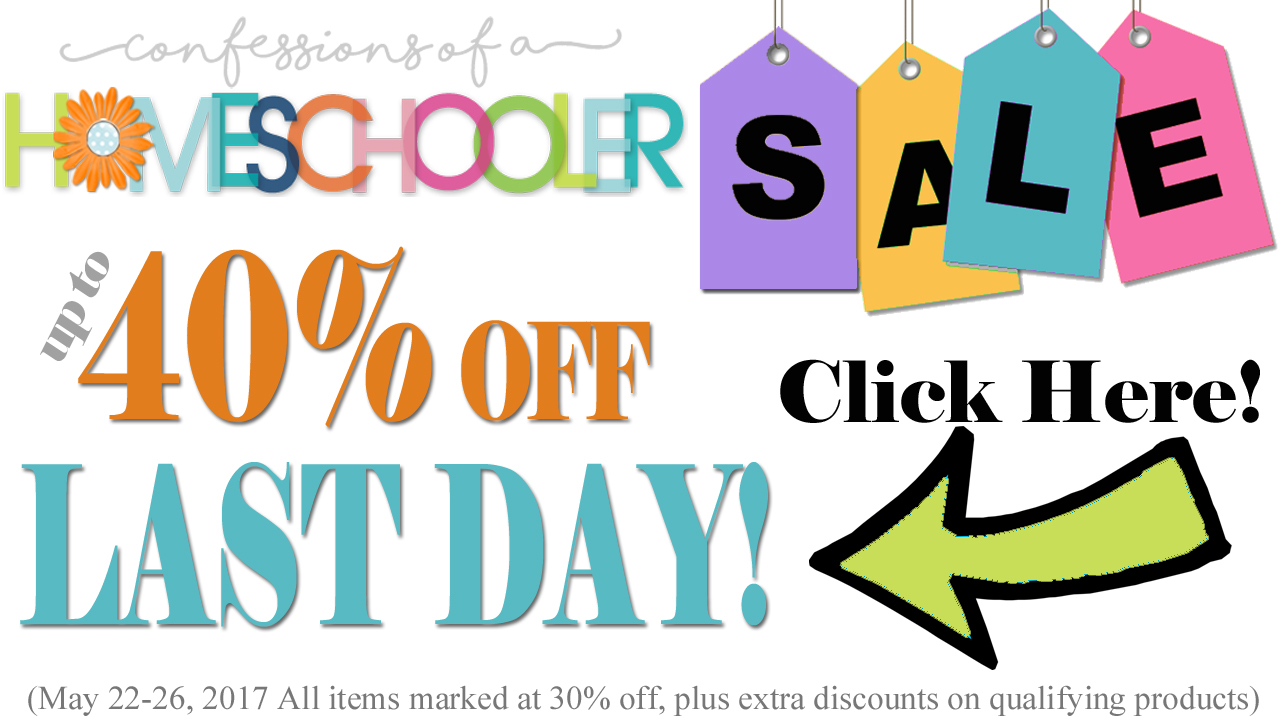 NOTE: I only do this sale once a year, so if you've been waiting to get something, now is the time. I'm sorry but the sale is only valid from May 22-26, 2017 so make sure to get your orders in during that time.
How it works:
Just to keep things simple and easy, there is no need for a coupon code this time around. Instead, I've just marked everything in my store at 30% off, plus you'll get an additional discount if you purchase 2 or more qualifying items totaling up to 40% off.
Please NOTE:  iBlog, iBlog Pro, Big Book of Homeschooling Ideas, and my Amazon books are not included in this sale as I don't control their pricing, sorry!)
TODAY'S FEATURED PRODUCTS:
Units can be purchased individually or as a bundle, and there are new ones being added to the literature units section in my store all year round:
Volume 1 includes:
Alice's Adventures in Wonderland
Black Beauty
Charlotte's Web
The Voyages of Doctor Dolittle
The Lion, the Witch, and the Wardrobe
Little House in the Big Woods
Mr. Popper's Penguins
Stuart Little
Treasure Island
Charlie & the Chocolate Factory
Volume 2 includes:
20,000 Leagues Under the Sea
Call of the Wild
Gulliver's Travels
Journey to the Center of the Earth
King Arthur and His Knights
Robin Hood
Robinson Crusoe
The Time machine
Tom Sawyer
Wind in the Willows
Volume 3 includes:
Anne of Green Gables
Heidi (COMING SOON!)
Little Women
Moby Dick
Peter Pan
The Prince and the Pauper
The Secret Garden
Sherlock Holmes
The Swiss Family Robinson
The Three Musketeers
Visit the Confessions Store to see all the goodies on sale!

This sale is valid from May 22-26, 2017 ONLY!!

I apologize to anyone who has purchased prior to today or who may miss this sale, unfortunately the sale prices are only effective for purchases made during the week of May 22-26, 2017 ONLY.
WIN IT!
Today I'm giving away three copies of my Literature Mega Packs!
I'll pick three winners, and they can chose which one they want!
Enter below to win!
CAN'T WAIT?
Feel free to purchase this product during the sale so you can get the discount, and I'll refund your cost if you win!