Hi friends, today I'm unboxing the October Quilter's Candy Box, yay!
If you're new to Quilter's Candy Box it is a monthly sewing/quilting subscription box. The boxes are $46.95/month (plus shipping) and they pack their boxes full of sewing and quilting goodies.
These boxes are unique in that they have a different curator each month who put together a special box of sewing, notions, and a few extra items that you can't get anywhere else.
The boxes ship no later than the 15th of each month, so make sure to sign up before the 11th if you'd like to get in on the next box. If you'd like to get an idea of what they've put in past boxes, you can see them all here!
Ready to see what is in this month's box?
Watch my October 2017 Quilter's Candy Box Un-boxing video below!
The October 2017 Quilters Candy Box includes…
Tula Pink's Spirit Animal Fabric 5" square stack
Tula Pink's designed ribbon from Renaissance Ribbons
Tula Pink Hardware
JayBird Cookie Cutter Pattern
Craft supply holster
Paint-it Cookies from Whip It Good Cookies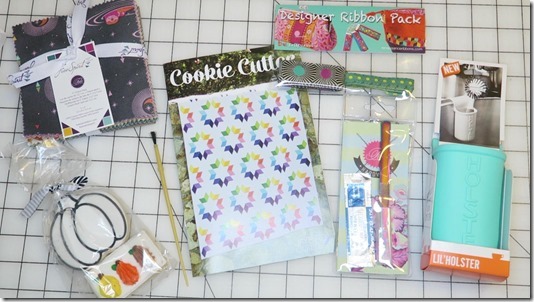 If you'd like to keep up with their boxes, make sure to check out Quilters Candy Box Instagram, they have a lot of fun quilty inspiration over there!
And if you post any photos of your boxes make sure to use #quilterscandybox to be eligible to win the next month's box free!
If you're just getting started sewing or quilting, here are a few fun Tutorials to get you started!
Disclosure: Quilter's Candy Box sent me this month's box for review on my channel. The opinions expressed in this video were my own, and were not influenced by the free product or company.