Hi everyone! I'm excited to kick off 2021 with a fun giveaway for you all! I've teamed up with Friends & Heroes and  What's in the Bible to bring you some great homeschooling curriculum! And best of all, I have a $50 gift card to giveaway for BOTH What's In the Bible and Friends & Heroes, so I get to pick TWO winners this time! YAY!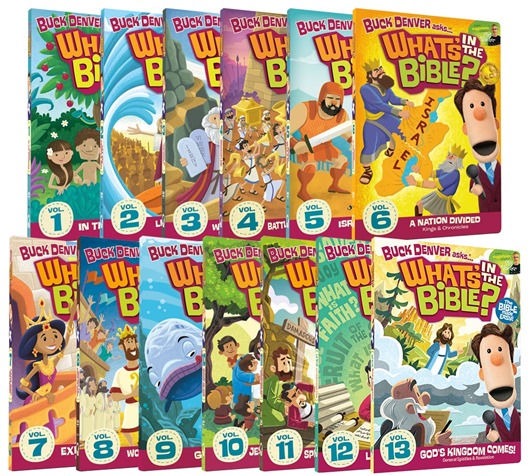 If you haven't heard of them before, the What's in the Bible DVDs feature Buck Denver and his friends, who take your children through the WHOLE Bible. They're perfect for the entire family to laugh and learn together. In his first new project since VeggieTales®, Phil Vischer has set out to teach kids (and parents!) the story of the Bible, God's great rescue plan! They share the stories of Moses, Noah, David, and Jesus, and in this groundbreaking new series, kids will learn how they all fit together to tell one big, redemptive story. This is one journey through the Bible you won't want to miss!
This 13 volume video series is a hilarious and groundbreaking new way to help your children learn about God, the Bible, and faith! Our kids enjoyed it so much when they were younger, and still talk about some of the videos now that they are teens.
For more information, you can check out my previous review for What's in the Bible DVDs here!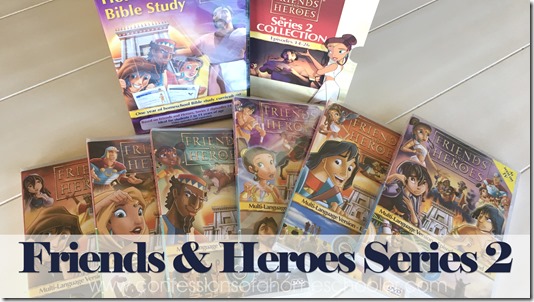 The F&H Series 2 Bible Curriculum includes:
36 weeks of homeschool Bible Curriculum
Each week includes 30 minute to an hour of video viewing (approximately)
Fun interactive lessons that dig deeper into many of the Bibles most important stories
Approximately 10 minute devotional to help apply the themes of the week's Bible study.
Memory Verses
Optional interactive games, puzzles to reinforce each weeks lessons.
CD-ROM printables that can be used with multiple children
Parent's/Teacher's Lesson Guide including answer keys and certificates of completion
Student Workbook of activities
Friends and Heroes DVD containing full length adventure episodes
Multi-Language Version including 10 different languages and subtitles!
Kids will learn to apply God's truth from timeless Bible stories such as Daniel in the Lions' Den, Jesus and the Miraculous Catch of Fish, Ruth and Naomi, Saul on the Road to Damascus, and Jonah and the Big Fish.
Check my review of Friends & Heroes Bible Curriculum here!
In addition to my giveaway,  What's In the Bible and  Friends & Heroes are having 2021 Summer PROMOTIONS as well!
10% off purchases of $50 or more
20% off purchases of $125 or more
No coupon code needed
Promotion ends August 8, 2021
Check them out on Social Media!
Ready for a GIVEAWAY?
I have a $50 Gift Card to Friends & Heroes and a $50 to What's In the Bible stores so you can choose the curriculum that is best for you! Enter below!