We just entered the Netherlands in our Expedition Earth Geography curriculum and seeing as how it is January, and we finally have snow on the ground, it was perfect timing to do a Netherlands Ice Skating Craft! Plus it was fun, and I'm up for anything that makes school more fun!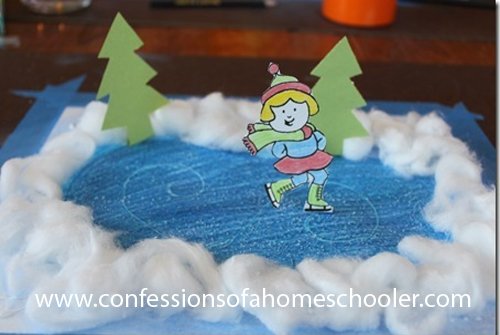 Supplies:
White Cardstock
Blue crayon or pastels
Blue Water Color, paintbrush, water
Salt
Cotton Balls
Green Construction paper for trees
Glue & Scissors
Colored Pencils or markers to color skaters
Directions:
Color and cutout Ice Skater and tree shapes (out of green construction paper). Leave an extra flap of paper at the bottom of the tree and at the foot of the skater so you can fold and glue it to the artwork later.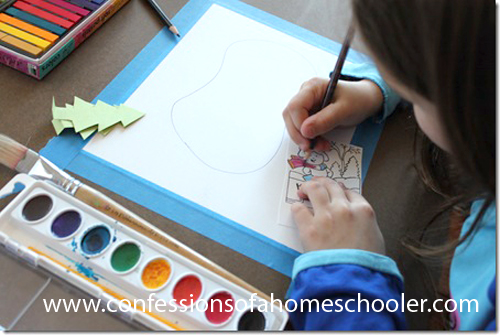 Using White cardstock, trace a lake shape onto the paper and color with blue crayon or pastels. Brush blue water color over colored lake and sprinkle with salt to create a glistening effect on the pond. (You can also use frosty blue paint here, we didn't have any, so we improvised with the salt.)
Scratch skating marks into the wet pond using scissor tips or pen with the tip retracted.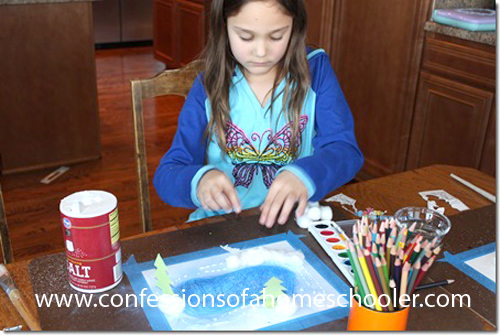 Next pull apart cotton balls and glue around edges of pond.
Add glue to extra flap of trees and skaters to complete the 3-D ice skating scene. Here are our completed projects: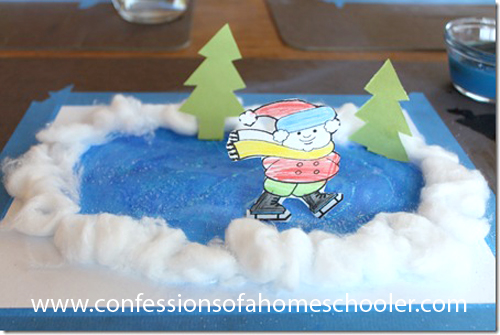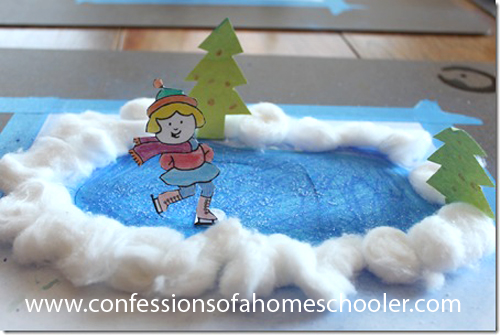 If you're brave enough you can go Ice Skating as a treat! Hope you had a fun time making this wintery craft!
Click here to see the rest of our Netherlands Geography Activities