Hi everyone! Welcome to the Teeny Tot Tuesday post! School is back in swing, and we're picking up where we left off at the end of last year. This week the Teeny Tot is working on the Letter I. For more printables and ideas, visit my Letter I preschool post!
Transferring pom-poms: I found these cute bamboo toaster tongs and lemon slice ice cube trays at Bed, Bath, and Beyond. I thought they would be perfect for our pom-pom transfer activity! I just set a small bowl of pom-poms, the tongs, and the tray in her workbox for the day. The Teeny Tot loves this activity, and it's great for hand-eye coordination as well as improving fine-motor skills!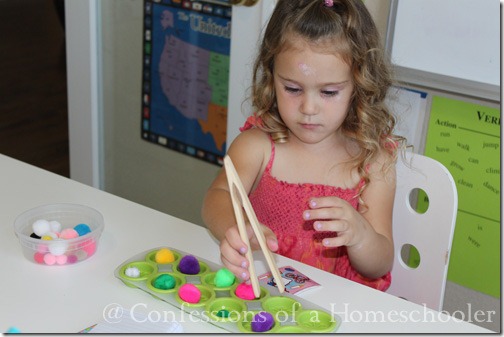 Upper/Lowercase letter sorting: Next up we sang our Letter I says "ih" song then we talked about uppercase and lowercase letters. Next she did her sorting activity to separate out all of the big I's from the little I's.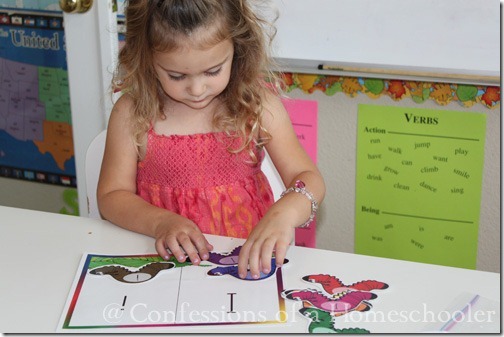 Lacing: One of her favorite activities is the lacing cards. For today I brought out our large letter I shapes and let her lace those up. She's getting much better at this!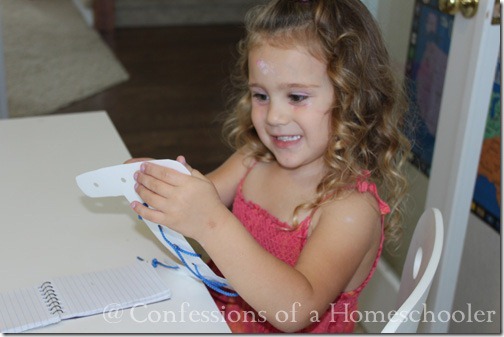 Color matching: One thing I try to do each week is a quick review of our colors. I made some colored disks by gluing a colored piece of paper to one side, then a coordinating colored picture to the other side of a 1 1/2" wooden disk. I found these cute colorful bag clips at Bed, Bath, and Beyond as well and they were perfect for a color matching game! After she's done we go over what all of the colors are. She's got these down pat, but still loves to do this activity.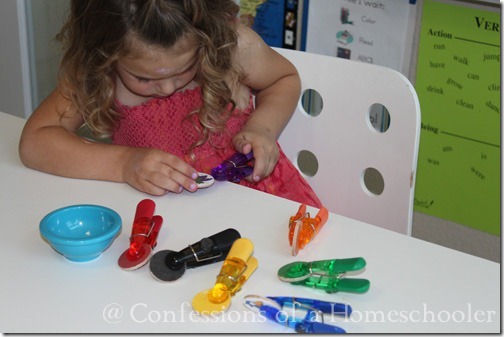 Counting: Next we did some counting practice. We counted the dots on the leaves, then put the caterpillar with the correct number on each one. She still needs help with this, but is getting better each day!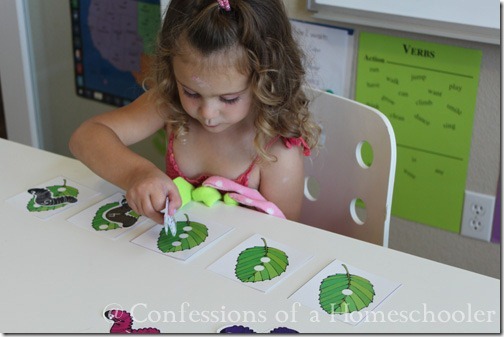 Magnet page: This game is also a favorite. I found these small round Power Magnets on Amazon, please be careful with them though as they're surely a choking hazard! The cute little cookie tray was part of a used phonics kit I purchased at a fair a few years ago, but you can use regular cookie sheets too, or magnetic whiteboards as well. She puts one magnet on each dot.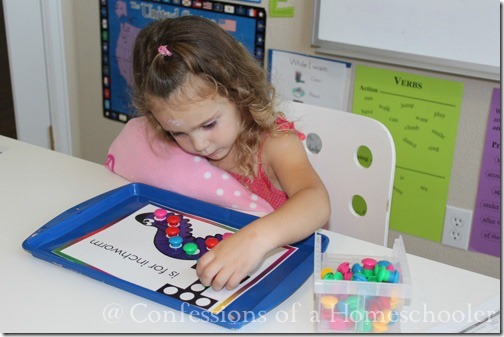 Coloring: I've found the twist up Crayola crayons to be an asset to our homeschool! They don't really break…unless someone twists them all the way up and breaks them on purpose. But they're always sharp, and so I keep a hefty supply on hand at all times!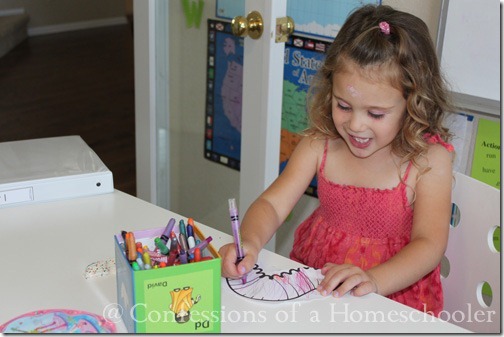 Poke Page: I found these HUGE push pins at a Target and we use them for this activity all the time. They are sharp, but she knows to be careful. Her goal is to poke little holes along the letter lines. It's great for fine-motor skills, patience building, and also letter recognition. She sings "The I says 'i' the I says 'i' every letter makes a sound the I says 'i'" as she works on it.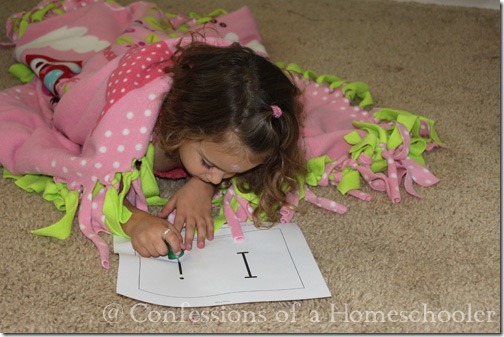 Do-A-Dot Activity: She also worked on her Do-A-Dot page with our Dot-A-Dot Markers, she's actually getting really good at keeping the dots in the actual circles on the page…previously she'd do a few dots, then proceed to cover the entire page with different color dots!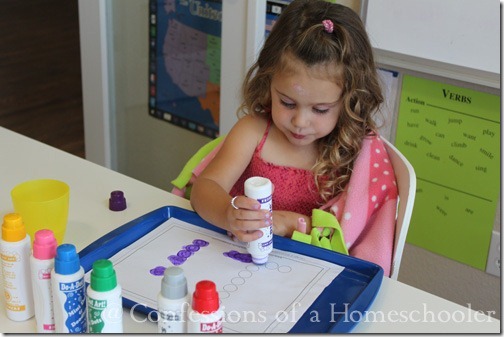 Cut and Paste: The cut and paste page is a great way to build up fine-motor skills as well as creativity!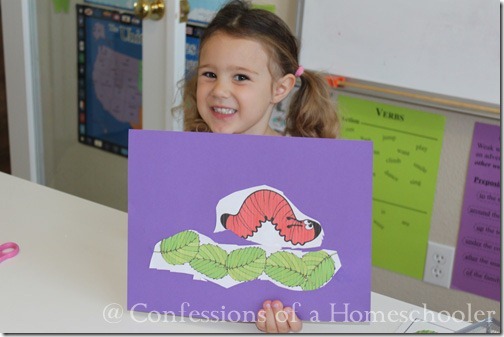 Pre-Writing Practice: I laminated my pre-writing pages and then the Teeny Tot used dry-erase markers to practice tracing along the pre-writing shapes. This is excellent practice for the handwriting that will come later on.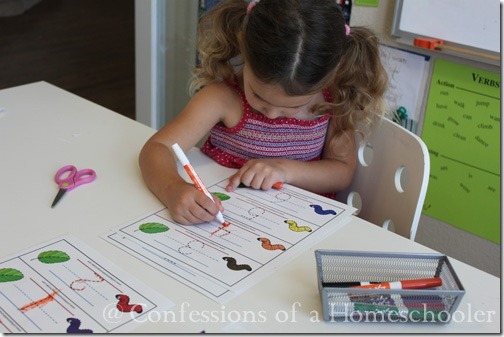 Large Floor Activity: Instead of our regular number game, today we played using our color cards. (They're in the "Lessons" folder in the Letter of the Week curriculum if you've downloaded that!) I called out colors and she hopped to them.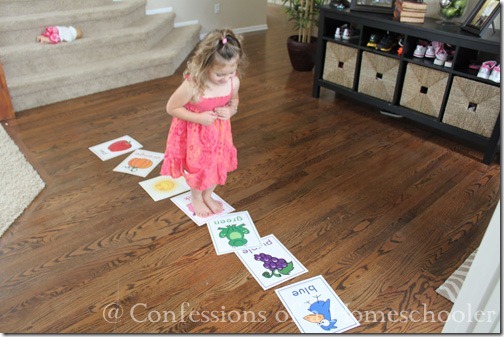 Next we used the cards to sort buttons. I found these Great Big Buttons and we use them for everything from lacing practice, to color sorting. They also come in different shapes, so you can shape sort with them as well! Here she was placing the correct color buttons on each card based on the color.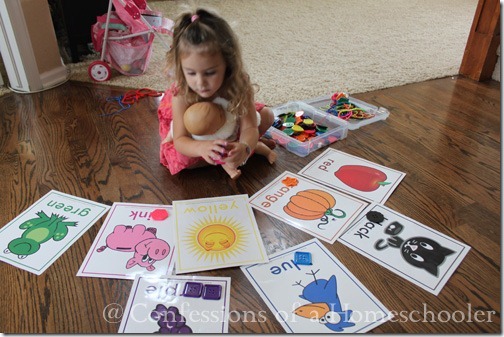 I actually didn't have these Biggie Beads in her box today, but the Teeny Tot went and got them out on her own. She loves this game, I'm hoping some day she'll be focused enough to make an actual pattern, but for now she diligently places her beads in random shapes on the game grid.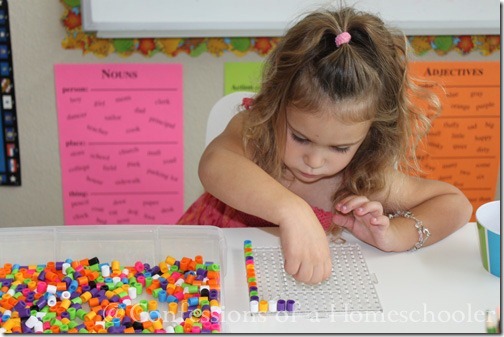 Building Practice: We finished off the day working on inchworm building practice. This is great for logical thinking and spatial reasoning skills. For now she is simply matching the game pieces to the board, once she gets the hang of that, I'll have her put the pieces next to the board in the same shape and order.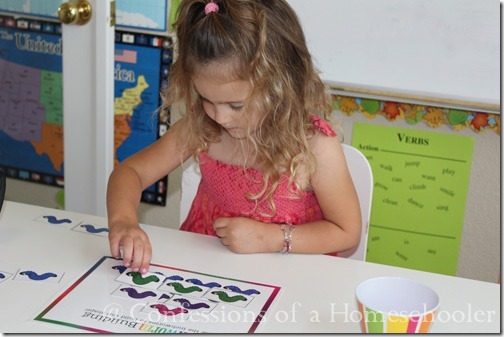 And that's it for today's Teeny Tot Tuesday post!
This is just a SMALL portion of our Letter I activities, you can see and download all of my Letter I preschool activities free, or you can also grab the whole Letter of the Week curriculum.