Hi everyone! Each year I receive emails asking about gift ideas for all of those awesome kiddos in your life! Well, this year I have a packed post of great ideas for the not only the little ones, but you mama's too! Hope you enjoy! Sorry, apparently I'm really into exclamation points.
WARNING: Beware, this post is full of eye-candy, so try to contain yourself, and just to help out, you should be able to click on any of the images below and get to them online… ;o)
Stocking Stuffers:
Tot School:
Alphabet Lacing Beads / How to build an A
Color Sorting Bears / Magnetic Fishing Game
Stacking Cups / VTech Touch & Teach Turtle
VTech Write & Learn Letter Book
Preschool:
Magnetic Color Cubes / Chicka Chicka Boom Boom
Lakeshore Color Sorting Baskets / Do A Dot Markers
Wikki Stix Alphabet Cards / Color Cube Activity Cards & Color Blocks
Magnetic Pattern Blocks / VTech V.Reader
Monkeying Around / My First Sticky Mosaics
1st & 2nd Grade:
Magnetic Mosaics / Qwirkle / Pick and Draw
Intermed. Pattern Block Cards / Rainbow Scratch Cards
Fashion Design Studio / Jewelry Design Kit
Legos Pirate Loot Island / Lego Star Wars (Any really)
Elementary Aged Children::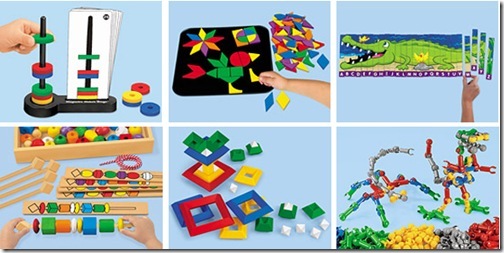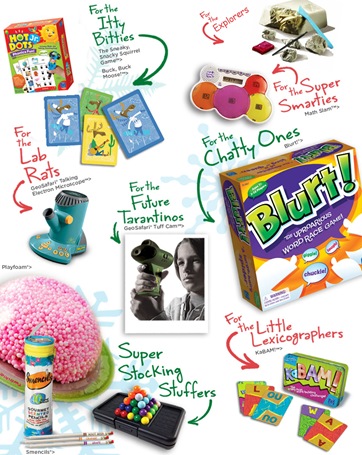 Dino Digs (Seriously a huge hit in our house!
Buck, Buck, Moose!™ Game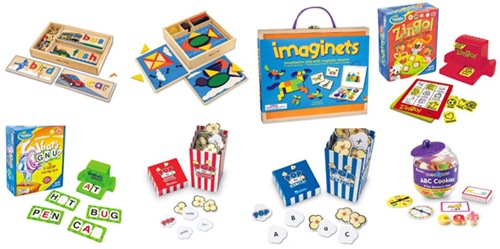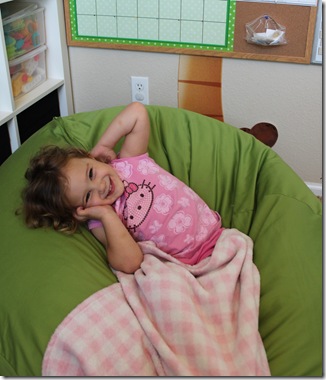 For Mom:

Scotch Thermal Laminator / HP Photo Printer

MadeOn Bee Silk Bars – These things ROCK!!
Happy shopping! And make sure to stop by Starbucks so you don't get too cranky waiting in line ;o) (I highly recommend the Tall Non-Fat White Mocha!
Disclaimer: This is NOT a paid advertisement or endorsement.