Hi everyone! Wow, I guess it's time for another monthly meal plan for you! I thought last year went by quickly, but apparently 2013 is already in full swing and I'm still recovering from Christmas! We're actually getting ready to move, so the next few months are going to be especially crazy around here packing and showing the house. And the last thing I want to be worrying about is what's for dinner!
So thankfully, I have another meal plan to the rescue!  Hope you enjoy it, and that it relieves a little bit of your daily stress level.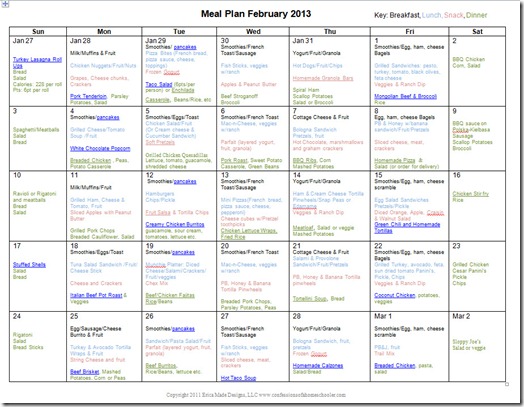 Click below to download your preferred meal plan:
Looking for some smoothie recipes? Check out our ideas below!
My Smoothie Recipe:
I'm kind of lazy when it comes to smoothies, I buy the family packs of Yoplait or Jamba Smoothies they have in the grocery store for days when I need a quick breakfast. Just add milk or orange juice and voila!
Here is my recipe for days when I have a little more time…
Ingredients:
1 banana (frozen is better, but I will work at room temp.)
2 cups frozen strawberries (Again, room temp is okay)
1 cup milk
1/2 cup vanilla yogurt (We prefer frozen yogurt)
1/2 cup orange juice
Optional: 2-3 tablespoons honey to taste (The plain fruit can be a bit sour, but the orange juice helps with this, so try it before adding honey)
Directions:
Add all ingredients into a blender and mix until smooth! Pour into glasses and serve!
This usually serves my 4 kiddos and me, but they all get half glasses. If I need a little more, I'll just add in some more milk or juice. It makes the smoothie a bit runny, but no one seems to mind and it's cheaper that way!
Note: Really you can use any type of fruit you prefer! Some of our favorites alternatives to above:
Mango, peach, & banana.
Raspberry, Blueberry, and Strawberry
And don't worry, I'll make sure to share pics of our new schoolroom once we get everything moved and setup!