Welcome to our week of Letter S preschool  activities! We will be having fun with snowmen this week, yes I know it's July. But it's like Christmas in July…right? Whatever, hope you enjoy!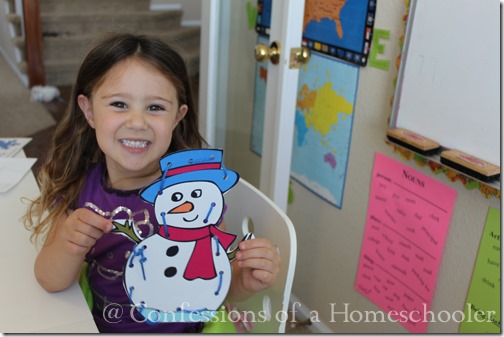 Letter S Memory Verse:
Seek the Lord while He may be found. Isaiah 55:6
Submit yourselves, then to God. Resist the devil, and he will flee from you. James 4:7
Click here to download the S verse puzzles
Read Chicka Chicka Boom Boom and put up the letter S on our Alphabet Tree! You can download my small alphabet letters here.
Song time:
Hide 'Em in Your Heart Vol 1
Hide 'Em In Your Heart Songs – Vol 2
Letter S Pattern Block printables: These are included in the Letter of the Week curriculum, but you can also grab the Alphabet Pattern Block cards free here! They are to be used with wooden pattern blocks. Have your student match the blocks to the card to form the letter.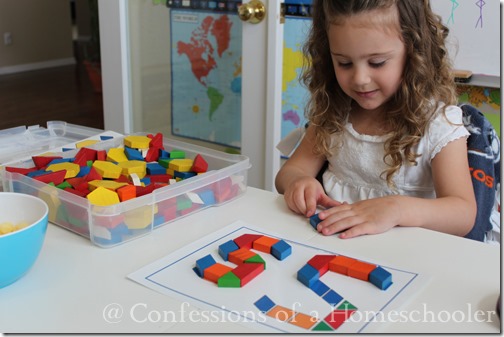 Letter S Tracing: I laminate this and use with Expo Dry Erase Markers for pre-writing practice skills.

Snowman Scissor Skills! I've been wanting to do more scissor skills, so decided to add an activity for my alphabet packs! Just print and cut along the lines. I'll be doing these for future letters and changing up the patterns as well.

Letter Ss Do-A-Dot Page: We use Do-a-Dot Art Markers with this!
Snowman Cut and Paste: A new activity I'm trying out, let me know what you think. Cut out the snowman and paste on a blue background, or better yet, paint a background! Add some cotton balls for snow!

Snowman Letter Bead Lacing: I'll put an index card in this box with the word 'snowman' so she knows the order of the letters. I got my lacing beads from Lakeshore Learning but these from Amazon look more fun to me: Bead Bazaar Lacing Kits – Alphabet Lacing Kit (maybe Christmas!)

Snowman Pattern Activity: Use the pieces to practice early patterning, a great pre-math skill!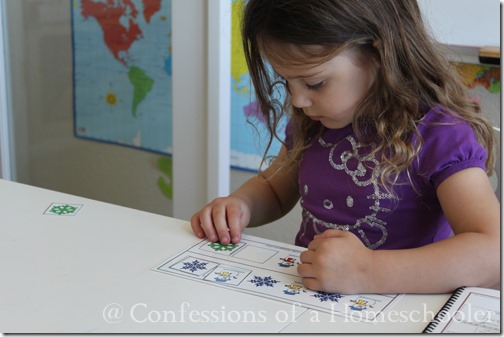 Snowman Color Matching: Match the correct colored scarf to the hat for each snowman!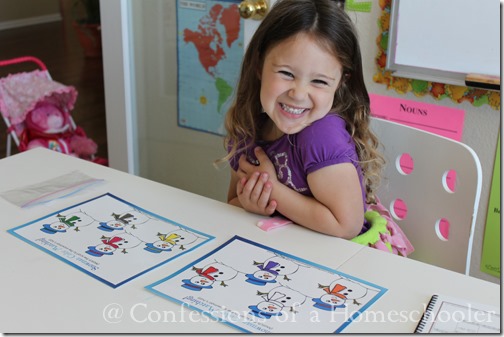 Capital/Lowercase Ss sorting: Simple, just sort the uppercase and lowercase letters using the attached snowmen.

Snowman Letter Match:  Have your student use the letter disks in the printable and match them to the letters on the card to spell "snowman".  Click here to see the process of making the letter disks. If you're looking for more challenge, use the uppercase card with the lowercase letter disks or visa versa, the download includes both upper and lowercase letter disks and activity cards!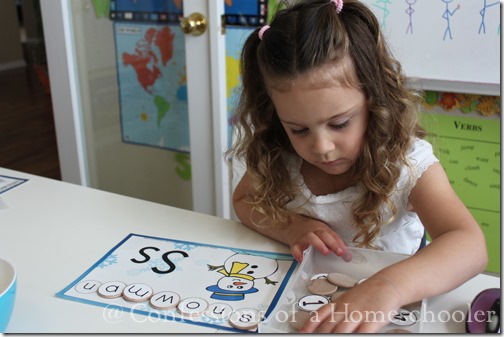 (Please note, the original idea for this game came from Tot School and Carisa's blog.)
Letter S Scavenger Hunt: fill your box with things that start with S! Ideas: sock, sandwhich, spoon, spider, sheep, shoe.

Snowman Size Sort: Sort these guys biggest to smallest, or visa versa. Discuss which is largest, smallest, medium!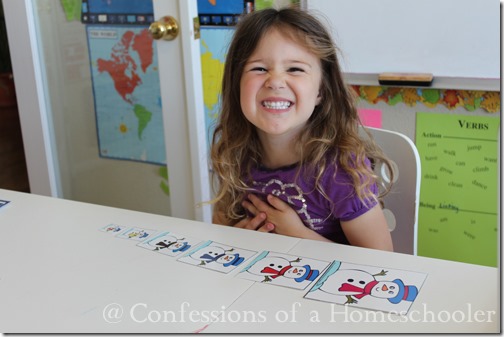 Snowman Puzzle: Cut along the lines for a 6 piece fun puzzle.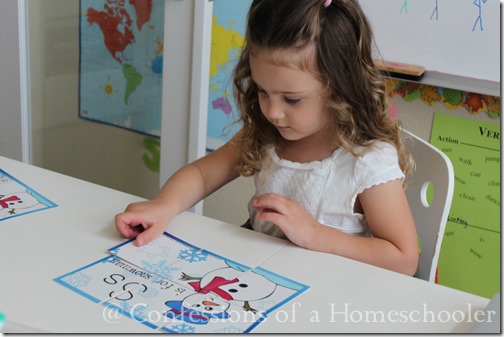 Snowman Pre-writing Skills: I laminate then hole punch the upper left corner, and bind with a keyring. Then we use dry-erase to practice our pre-writing.

Snowman Number Practice: I laminate cut along the lines, then hole punch the upper left corner, and bind with a keyring. Then we use dry-erase to practice our numbers.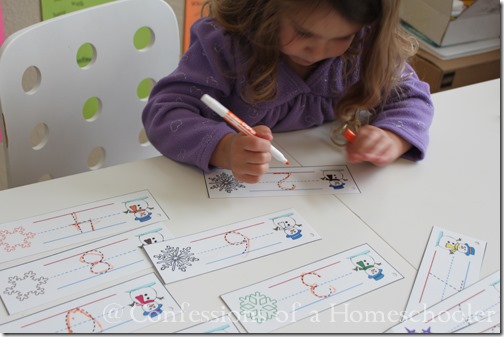 Snowman Magnet Page: I either use These Power Magnets from Amazon, or homemade pom-pom magnets I made from sticky backed circle magnets from Wal-mart: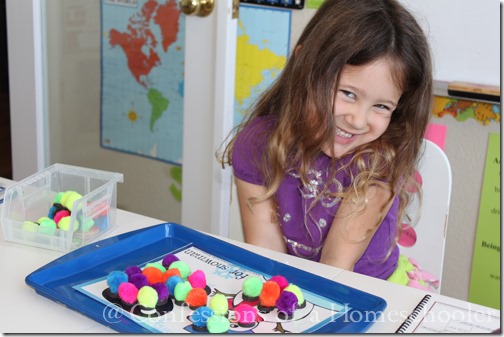 Snowman Lacing Card: I laminate this one for sure, just for durability. Cut it out and hole punch every inch or so. Teach your child how to make patterns while lacing, for example go in-out-in-out, or always go up from the bottom, see the different lacing patterns you can make!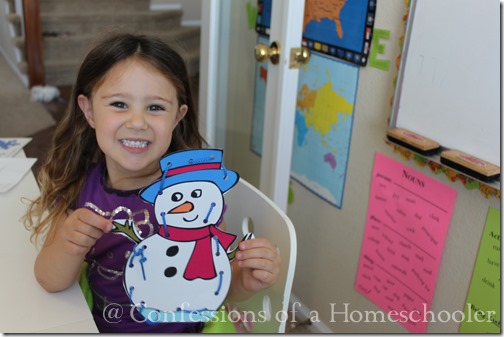 Snowman Graphing: I laminate then hole punch the upper left corner, and bind with a keyring. Then we use dry-erase to color in the graph bar. You could also use a manipulative like seeds, or you can use the snowflakes from the Snowman Number Cards game as well!

Snowman Coloring: You can color this, paint it, or we like to use Do-a-Dot Art Markers with this!

Snowman Number Cards: You can use these little guys in a couple ways; Have your child put them in numerical order, put mini-clothes pins on them (the correct number of pins based on the number on the card) or colored paperclips. I added little snowflake counters for you to use. She was tired of counting, so I had her put them in numerical order instead.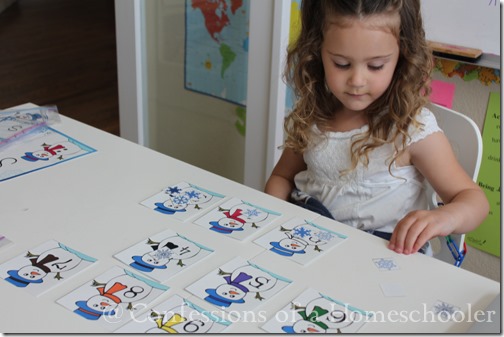 She decided the snowflake printables weren't colorful enough so she started using buttons to count instead.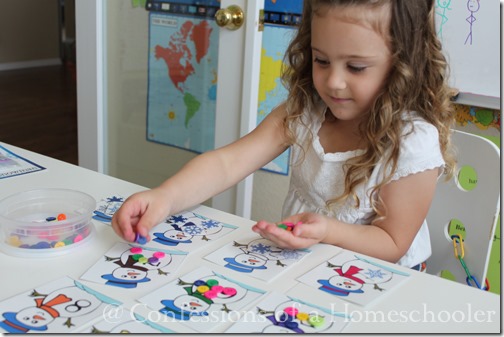 Snowflake Matching Game: Print 2 copies of this one, leave one whole, and cut the other into pieces and use as a matching game!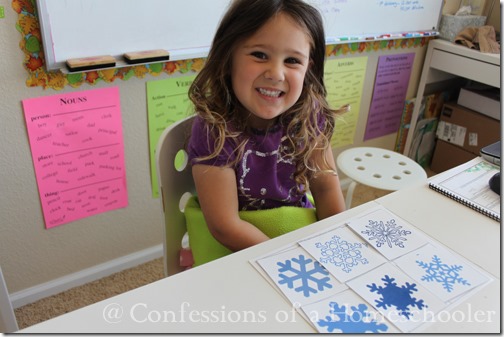 Snowman Building: These activities are great for spatial relations, patterns, logical reasoning, geometric concepts, & computation skills. I tried to make these regular m&m; colors so you can use the real thing if you want to! Click here to see more CREATIVE COLOR CUBE ACTIVITY CARDS!

Snowman Large Floor Numbers: These are 8x10ish and I cut them out and put them on the floor in mixed or numerical order. Then we play a game where I call out a number and she hops to it! Great for number recognition and a little exercise as well!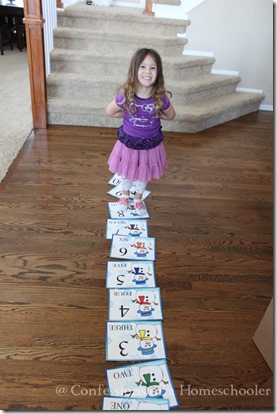 Finger Tracing Paint Bag: This is simple and fun, I filled a bag with tempura paint, you could also use cheap shaving cream. Then I'll tape it to her desk for her to practice writing her S and s in using her finger. You could also skip the bag and put shaving cream on your counter if you're feeling brave ;o) After we do the letters we do numbers, shapes, and whatever else we can think of! (Sorry, i used the picture from Letter D … I didn't have one for S apparently, but you get the idea.)

I found a new use for our Large Alphabet Lacing Cards! First we traced the letters with her finger, then we used our 1″ building blocks to make the letter S and s. She also picked 2 colors of blocks and did a pattern as she made her letters! We also use them for lacing practice, but this was a new variation since I've been making the shaped lacing cards too!

Letter Collage Worksheets: The download includes letters A-Z as well as a collage idea sheet. We use the collage items as objects to decorate our letters for an alphabet book. We also color, paint, and stamp them, we glued Straw(raffia) to this "S". Since we use both upper and lowercase, I have provided both for you! Click here to download the Letter Collages:
Kumon ABCs Uppercase Write & Wipe Flash Cards: Always turns into this…

11 x 11 Pin Geoboard: We use these to make letters, numbers, shapes etc! (Sorry I used the Letter M pic because I'm lazy, but you get the point

)

Cottonball Snowman Craft: Using a sharpie, draw the outline of a snowman (3 circles sm, med, lg) on construction paper. Have kids glue cotton balls or marshmallows all over the circles to form snowman. Punch small circles and cut hat shape from black construction paper for eyes, buttons and hat. Cut small triangles from orange paper for the nose. Glue on pretzel sticks for arms! Sprinkle with glitter glue for snow!

Don't Break the Ice game: I figured with the snowy theme, this game went along quite well, not to mention its super fun!

Foam Letter Builders: I cut the shapes from foam and let her use them to make the letters. You could also use my Magnetic Letter Builders as well!

Edible Snowballs: Click here for the recipe!
Spoon Letter Matching Game: Using two different colored sets of spoons, I wrote capital letters on one set and lowercase on the other. Set all of the spoons out for the letters your child knows thus far and have them match the uppercase spoon to the lowercase one.
Snowy Balancing Game: Okay, not so much real snow, but it is a block of Styrofoam which looks like snow! I placed some golf tees in the block and then let her balance snowballs … a.k.a. marbles… on top of each one. This game is great for fine motorskills and balance. Once she was done, I let her put in the tees. She quickly figured out they ahd to be straight in the foam for the balls to balance on top.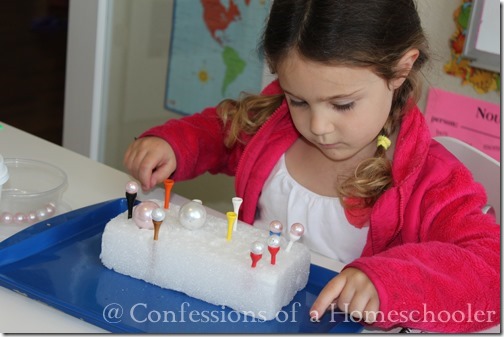 More Letter S ideas and Crafts:
Family Fun Night: Make shrimp tacos, (or soup and sandwiches).
Have some fun Letter S Preschool Ideas to share? Make sure to leave a comment below!
So those are just some of what I managed to capture via photos this week, but you can click here to download all of the Letter S preschool activities, or check out my Letter of the Week preschool curriculum to get the entire alphabet all at once!
Is my Letter of the Week Curriculum too easy for your student? If your student is ready to move on to Kindergarten, make sure to check out my K4 Kindergarten Curriculum!