Hi friends! I have a really fun giveaway for you all today! If you've watched any of the videos in my Quilting 101 series you all know that I recommend 50wt 100% cotton Aurifil for my thread choice. So you can imagine my excitement when Aurifil offered to do a super awesome giveaway for my readers!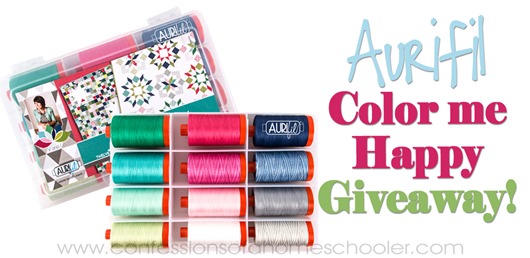 I always have great experiences with Aurifil thread and shortly after starting to quilt I figured out the importance of using good quality thread. If you go for cheaper thread it's likely to break while trying to quilt, and it can deteriorate faster over multiple washes as well. And you don't want your hard work coming apart!
I've found some of the cheaper threads can also tangle in your machine more and just cause general sewing frustrations with your bobbin, tension, and breakage. It can also cause a lot more lint to collect in your machine too, and who likes to clean out lint from their machines? Yuck. Not me!
I've been using Aurifil for the past two years and I've found it to be super durable, and I haven't had too much breaking when trying to do difficult things like free motion quilting or sewing through thick layers. It doesn't lint up my machine too much either.
And the color selection for Aurifil is amazing! I don't think there is a color out there I've needed that they haven't had!
So on to the fun stuff, the giveaway! I have this beautiful Color Me Happy thread set to giveaway to one of you! This kit was designed to go with the Color Me Happy line by Vanessa Christenson and it's beautiful!
You can purchase Aurifil all over online and at many of your local quilt shops too. My favorite place to get it is on Etsy or Fat Quarter Shop. I've also seen it on Amazon as well.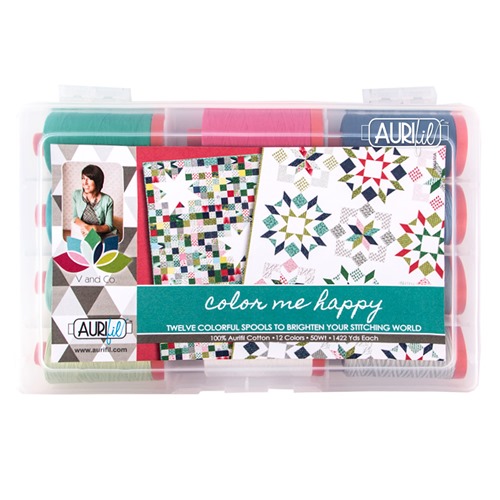 As you can see the colors are bright and cherry and they are flexible enough to go with many of your fabric choices too. This particular set also has some variegated threads in it which make for really fun and beautiful quilting!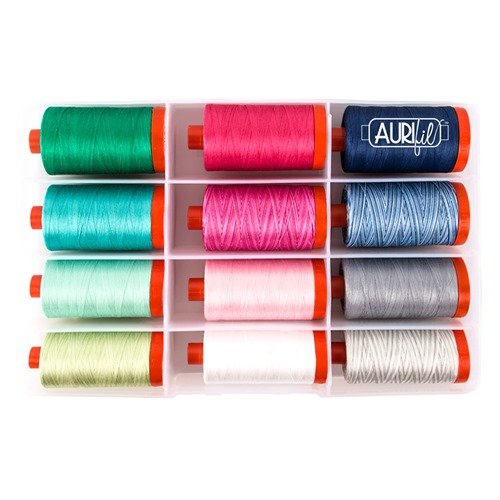 Giveaway time!!
Fill out the Rafflecopter below to enter to win this delicious set of Aurifil thread!