Hi friends! I'm sooooo ready for spring I can hardly stand it. We actually had kind of a tame winter though and so I'm not getting my hopes to high that it's actually over. We usually get a couple of feet around Mother's Day so we'll see how this year pans out.

But in the meantime, I'm sewing all things spring! And this Dutch Tulips quilt pattern by Fat Quarter Shop was the perfect thing! This pattern was so easy to put together, and it includes a variety of sizes as well so you can make whichever you prefer.
I used the new line by Lella Boutique called Sugar Pie. It's such a beautiful color way and has a lovely spring feeling to it.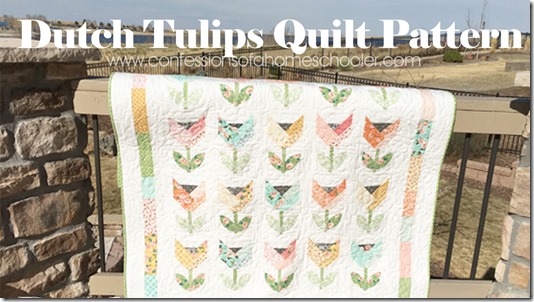 The little tulips are so fun and fast to make, however I do want to mention to be careful when cutting the portion that creates the grey tulip center. The directions were clear, but I accidentally cut off the wrong side of my sewn square and had to then improvise even more to utilize the side I cut off! Oops! One side forms the triangular center, the other side forms this grey rectangle looking thing. Not good!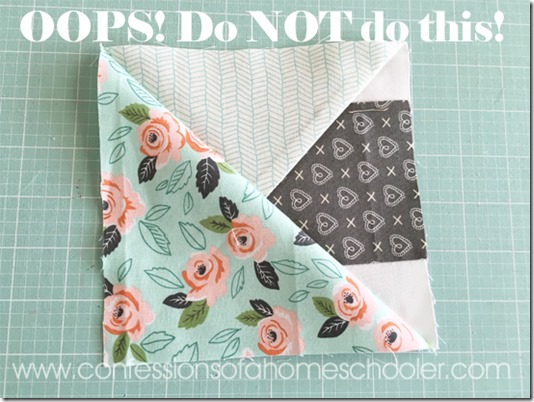 The pattern also gives fabric requirements for a variety of quilt sizes. Since I only had a Fat Eighth bundle of Sugar Pie, I had to improvise a little bit. So I mixed up my fabrics some and just made sure to label each of my sizes with my Alphabitties to keep everything straight.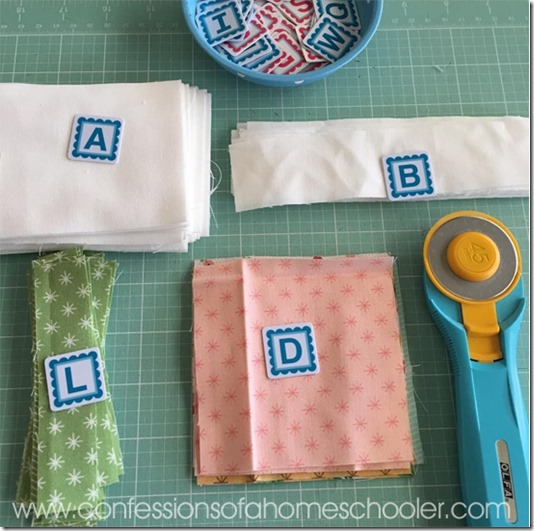 There is a little applique' necessary for the leaves, but I just used a zig-zag stitch on them and they went really fast. I have a tutorial on How to do Applique' on my YouTube channel if you need some help. It's super easy and not scary at all!
If you'll notice I also decided to have all of my tulips going the same direction instead of opposite like in the pattern. I went back and forth between the two layouts, but eventually decided I liked them like this. But honestly either layout looked really fun.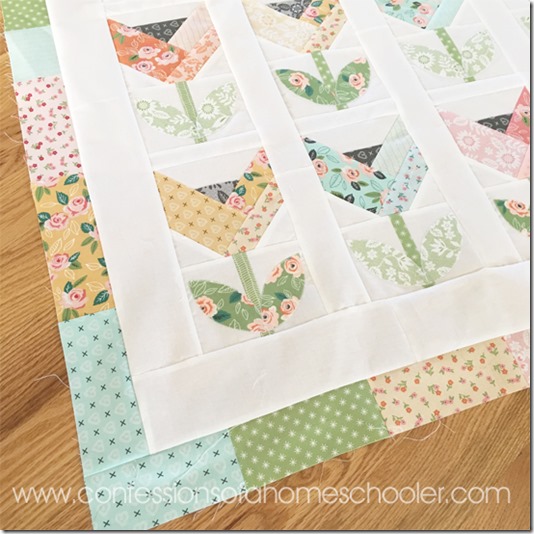 Since I was short on fabric, I made the lap size quilt. But when all was said and done I wanted it a tad larger, so I used my left over fabric to create a scrappy border. I simply took the scraps and cut them to 2.5" wide by whatever length they already were, and then stitched them end to end with a 1/4" seam.
The result was a fun and scrappy border which I think went lovely with the quilt top. I also added another 3.5" white border to the outside of my scrappy border to make it even a bit larger. I really love how it turned out!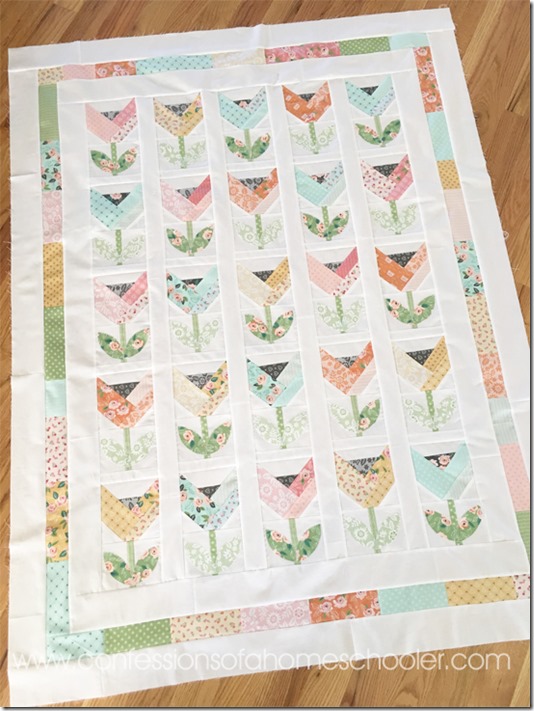 For the backing and binding I used the Sugar Pie Aqua Wildest Rose yardage and the Green Sprinkle color way for the binding.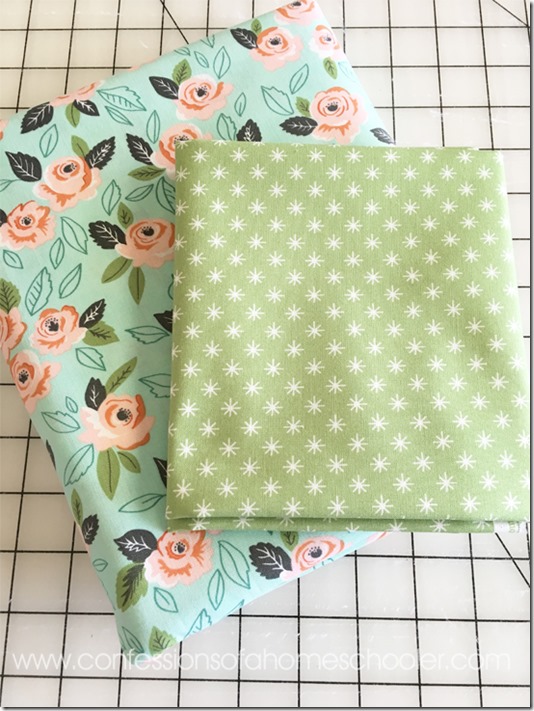 To create the binding I just cut several 2.5" by WOF strips and stitched them end to end with a 1/4" seam. Then I pressed the pieces in half lengthwise all the way down the whole piece. I pressed the seams open whenever I got to them. I have a tutorial on how to bind a quilt here if you need more instruction on that process.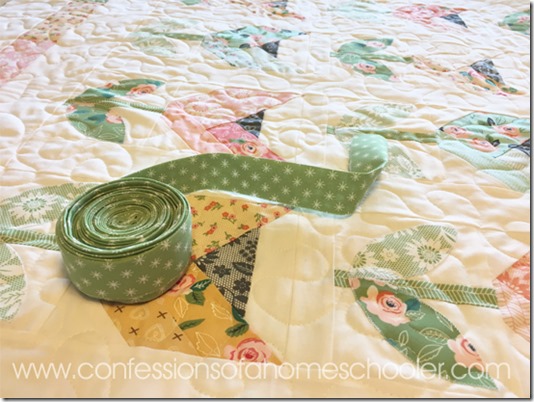 I just did a super easy meander pattern using Free Motion Quilting on my Juki TL-2000Qi and it's all done!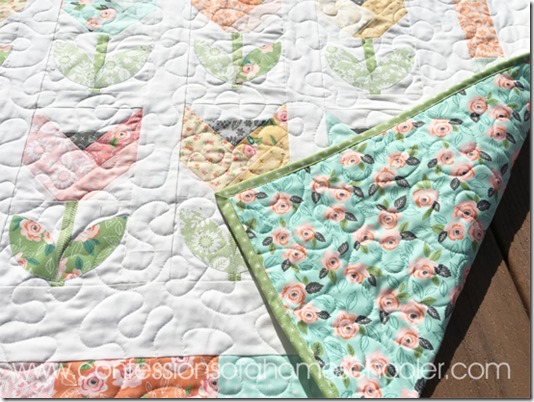 Now I just need to grab a glass of iced tea, my latest knitting project, and this sweet spring quilt and head to the front porch for an afternoon of relaxation. As long as my weather continues to cooperate we should be all set LOL!
–>> Click here to see Fat Quarter Shop's video tutorial for the Dutch Tulips quilt!
Here are a few more of my Quilting Tutorials online if you're just getting started:
And don't forget to follow Fat Quarter Shop's social media to keep up with all of their fun projects!
Disclosure: I received this pattern was provided free for review on my blog. The opinions expressed in my post are my own and were not influenced by the company or free product provided.