Hi everyone! I'm so excited today! I have another great back-to-school giveaway for you! When the What's in the Bible DVDs first released we had some friends over to review the videos. If you missed it, check out our viewing party results here!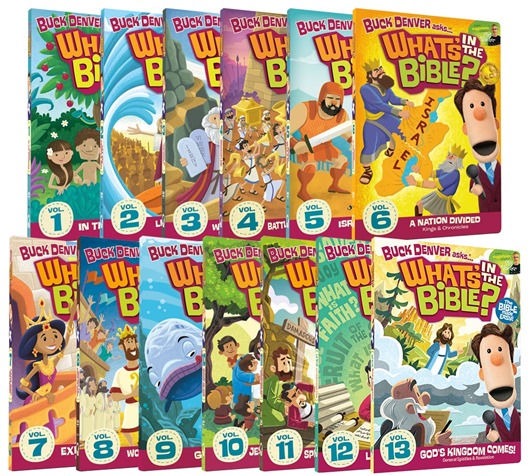 If you haven't heard of them before, the What's in the Bible DVDs feature Buck Denver and his friends, who take your children through the WHOLE Bible. They're perfect for the entire family to laugh and learn together. In his first new project since VeggieTales®, Phil Vischer has set out to teach kids (and parents!) the story of the Bible, God's great rescue plan! They share the stories of Moses, Noah, David, and Jesus, and in this groundbreaking new series, kids will learn how they all fit together to tell one big, redemptive story. This is one journey through the Bible you won't want to miss!
After our screening party I took a vote to see who liked it or didn't like it and why. We had 13 children total attend our screening party. I could hear quite a bit of giggling during the show, so I know that for the most part it was a success!
They even liked the beginning of the DVD where Buck Denver talks about how he's never done a menu screen before, this was his first time. It's all very cute, entertaining, and educational!
We ended up with 11 thumbs up out of 13 kiddo. They said the videos were entertaining and they learned something, they also said they were quite funny!

If you're interested in these DVDs I encourage you to check out the What's in the Bible Summer Promotion below!
10% off purchases of $50 or more
20% off purchases of $125 or more
No coupon code needed
Promotion ends August 31, 2019
Check out What's in the Bible on Facebook to stay up to date with new releases and promotions!
Ready for a GIVEAWAY?
Friends and Heroes is giving away a $50 Gift Card to What's In the Bible store so you can choose the curriculum that is best for you!
Disclosure: Some links may be affiliate links. Thanks so much for supporting my blog by using my links.