Hi everyone! We'll we're about half way through our 2015-2016 homeschool year, and I thought I'd do a mid-year review for you all since we've made a few alterations.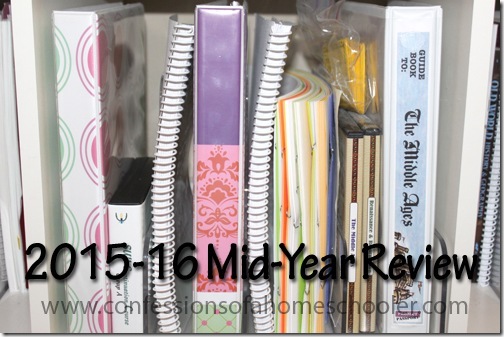 For the most part I'm happy with what we've chosen this year. And I think we did good as far as balancing teacher led, with student independent work as well. But we have changed up a few things as needed.
So here's what we chose for the year and what we like or dislike, and whether or not we'll stick with it for next year!
Miss Lady Bug: 1st Grade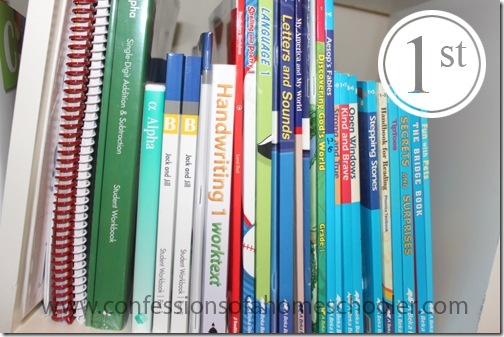 So after going through our day, I realized that I loaded up Miss Lady Bug's schedule pretty full. As a matter of fact it is almost too full, so we did drop some things to make it easier for her to get through her day, and make her schedule a little more realistic for what she's able to handle right now.
She's still doing everything with the exception of my Literature units, & handwriting. I had planned to use my Lit. units as read-a-louds, but we've really been focusing on her reading to me, so we've been spending that time on the couch with readers at her level. I'll let her start my literature units next year, or maybe even the following year when she's ready to do them more independently.
We also took out the BJU Handwriting. Since she's doing Spelling You See an Abeka Spelling, I found the extra handwriting practice just wasn't needed. The Spelling You See really doubles as handwriting for us right now, so it seemed like a waste of time to do another one.
I'm also waffling on the vocabulary for first grade, but we've been doing it a few times a week when we have time. She likes to do the book, and it's actually really fast. She's also starting to be able to read better, so that helps. But otherwise I'm reading and telling her definitions each day, so honestly I'm not sure it's really sticking at this age. I think vocab might really be something that would be more effective next year.
She also switched from inline hockey this year to ice skating lessons. She's loving it and doing really really well! She still swims, does Keepers, and is in a once a week options program.
Tinkerbell: 4th Grade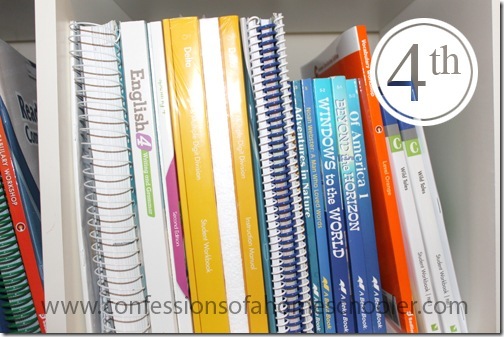 TinkerBell is doing exceptionally well with all of her things. I really haven't removed anything from her list this year except my daily learning notebook. She says it's too easy for her at this point, and since she has a full load, I let her give it up at the mid-year break.
Since Turbo moved to ice hockey, she decided she wasn't interested in playing. Instead she's taken up ice skating lessons. She participated in a holiday ice show that was really fun and cute, and so far she loves it. She's also still swimming twice a week, and doing an options program once a week.
Turbo: 6th Grade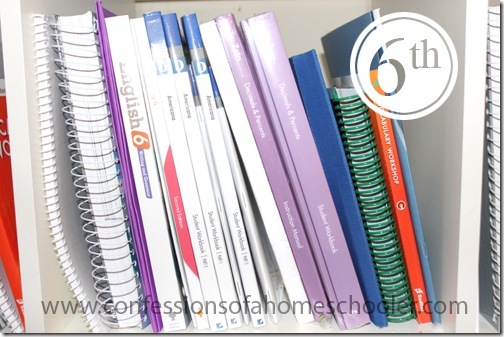 Turbo has also been doing well with his work. I did substitute the vocabulary workshop for him this year in lieu of the Word Build online program. He really hated the workbook, and since he enjoys doing things on the computer I thought he might enjoy that more. And he definitely does! I will say that depending on where you start, it is quite a bit easier than the vocabulary workshop books. But I wasn't sure where to start him, so we just started with Foundations Level 1. Since I paid for it, I'm having him finish, but he's definitely past that, and I probably should've started him at Foundations Level 3, or even Elements Level 1. I just wasn't sure since he hadn't used the program before.
I've also let him alternate between Book Shark books and my literature units and library book choices because he requested that. He wasn't loving the Book Shark books, and honestly I didn't totally love them either. So now he either picks one of my literature units, or a book from the library that interests him instead. He still does the Abeka Read & Think Skill sheets, so I'm not worried about his comprehension. But I want to foster a love of reading for him right now since he previously did not like to read. I find that allowing him to read books that interest him has dramatically increased his desire to read!
Strawberry Shortcake: 7th grade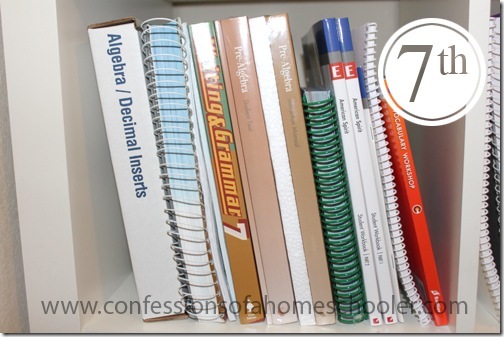 Strawberry Shortcake has also been doing well with her picks for the year. The only thing I'm not totally loving is the BJU English 7. Though honestly we'll probably use it for next year anyway. It's a little more difficult because there aren't really teacher lessons in the TM, its really just an answer key to the student workbook. Her workbook has the lessons she reads herself, then she completes the work independently. That makes it difficult for me to tell whether or not she understood a concept until I grade her workbook. I'm also not sure what she's learning until afterwards either.
I think if we use this next year I might consider using their DVD lessons, though they look kind of goofy! She also finished the Foto Finch photography earlier in the year, so she's done with that now.
Like Turbo, Strawberry Shortcake didn't love the Book Shark list either. So she's also been alternating between those books, my literature units, and library books of her choosing.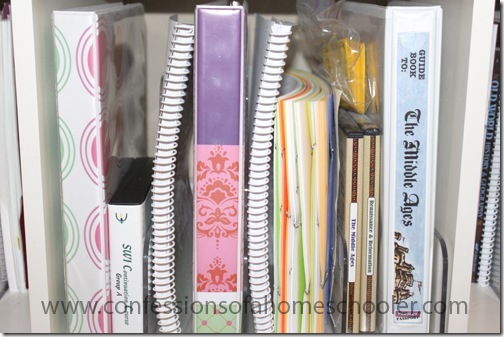 Extra-Curricular & Group Activities:
So far our group activities have been going well. I'm still really liking the IEW writing program, so we'll stick with that. We're also doing my Expedition Earth curriculum as well and everyone is having a lot of fun!
We've been a bit bad at getting to the Time Traveler's history units. I'm finding it difficult to do both that and my Expedition Earth at the same time. So we've mostly been doing EE instead. I did finish the unit from last year, but haven't moved on to Renaissance & Reformation yet.
Contenders of the Faith is taking a break, so he's currently not doing Contenders.
DI Instant Challenge Co-op: The moms for this group had high hopes, and we've been getting together once a month for almost 4 years now! But with everyone's busy schedules, it just wasn't working out. So we've decided to take a break this year. I'm not sure if we'll pick it up for next year or not. If we don't I might try to institute the DI Challenges at home, but for now we're pretty packed!
Here are a few other things we do on the side, and I'll post our schedules by grade as well soon!
Wrap-Up
And that's all folks! For the most part I didn't make too many changes to our year after the Christmas break. I think what we're doing for now is working well.
One thing I'm going to do for next year is make Strawberry Shortcake's curriculum a little more independent. That means she probably won't participate in group science/history activities. She's getting to a point where she prefers doing things on her own, and I think it will benefit her to start reading and studying on her own instead of doing everything as a group.
I'm also going to try and plan a little bit less next year as we're pretty booked this year. However everyone is holding up to the schedule well for now, so we're going to finish out the year as planned!
Did you make any changes this year? Leave a comment below!
Need HELP GETTING STARTED????? Get your copy of Homeschooling 101: A guide to getting started!