Hi everyone! I'm back again today with our top kindergarten homeschool curriculum picks for you. I hope these posts are helping you all plan your homeschool year. If you have any suggestions for helpful planning posts let me know and I'll see what I can do!
If you missed my Preschool Homeschool Curriculum picks, make sure to check them out here.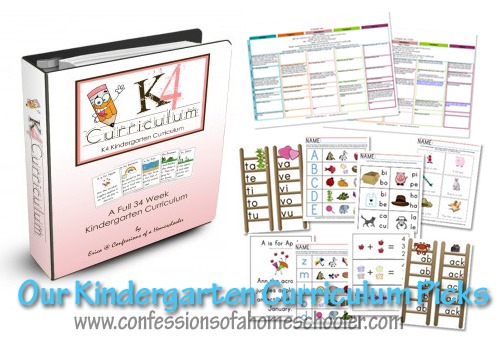 Please keep in mind that students and parents needs will differ, so what we're comfortable with may not work perfectly for you. So I'm hoping you'll just use this as a guide to help you get started in picking your curriculum. And hopefully take my choices as helpful suggestions, not what you  absolutely have to do.
Here are the basic subjects I suggest you cover for Kindergarten:
Bible
Phonics
Reading
Math
Handwriting
Optional: Art, Science, Social Studies
So let's get started!
Most of you know that I created a Kindergarten (K4/5) curriculum several years back, and I still love it! It started out as a bridge between preschool and kindergarten, but I eventually expanded it into a full 34 week kindergarten curriculum. It's perfect for anyone who has completed my Letter of the Week curriculum, or who knows their letters and sounds well, and can count to at least 10. My K4/5 Kindergarten curriculum introduces beginning reading, math and handwriting skills that will give your student a huge advantage as they proceed through their elementary years.
Upon completion of this program, your child will have a basic understanding of simple addition and subtraction, place value, basic 1 and 2 vowel words, and beginning reading skills, logical thinking and much more. With this curriculum you also receive 34 weeks worth of daily lesson plans to help guide you through a full year kindergarten skilled activities. It also comes with several bonus printables not available on my website.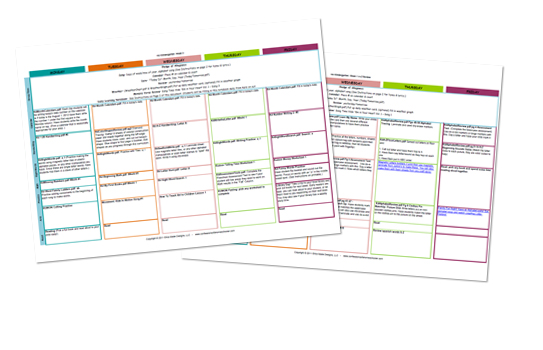 While my Kindergarten curriculum is a full curriculum, I also have some additional optional things that we have used in the past as time allowed. Below are my top picks for kindergarten learning fun!
GENERAL SKILLS:
Daily Learning Notebook (Kindergarten Version) – These are free downloads found on my blog, and they come in a variety of styles. I have a kindergarten specific one I like to use for ages 5-6. It covers things like:
Days of the Week
Calendar activities
Months of the Year
Numbers
Letters
Weather
Money
Handwriting Practice
ART:
World's Greatest Artists Vol. 1 or 2: My artist studies are a great way to learn about some of the world's greatest artists as well as learn about different artistic styles, techniques, and mediums. We also learn how to creatively and critically discuss artwork, as well as gain appreciation for different types of art. And there are a ton of hands-on projects students complete based on each artist studied as well.
I also like to include plenty of free time art projects, play-doh, painting, drawing, pastels, etc. Keep in mind that you don't have to do a formal art program in kindergarten! Just making some time each week to do something fun and creative will be beneficial to your student's well being!
I love the Home Art Studio DVDs they have really fun art projects. They are sold by grade level, which might not work as well if you have multiple-grades represented in your home. But I've found that for the most part, if you pick a DVD between the upper grades in your home, you can have everyone do a project from one DVD and it seems to be okay. There have been a few times where it was more difficult for my youngest, but I don't expect her work to be the same level as her older sister. So we just go with it and they've done fine. The DVDs may cost a bit more, but they also take the pressure off of you to teach a lesson.  If you're not comfortable teaching art, you can simply gather the required materials and let the DVD do the teaching for you.
Another one of my favorite all time resources for art is the Deep Space Sparkle website, she has tons of free art ideas for kids also sorted by grade level! And it looks like she's also created a curriculum you can purchase as well. I haven't tried it out myself, but I love her website overall!
BIBLE:
Grapevine Traceable Units: These are great for younger kiddos. Since I have 4 different grades in our homeschool, I purchase the multiple-level teacher's manual, along with a combination of the traceable student workbooks (for my younger kids) and the blank one (for my older kids) and we all do the same lesson at the same time. It's worked out great for teaching multiple levels at the same time! That said, they also have grade specific levels if you don't need to teach more than one grade together.
Character Studies: I have a series of FREE character studies available for download on my website. They're great for teaching basic character skills to your kids while having a fun and engaging Bible study at the same time. You can find them all here on my Bible printables page, I hope you enjoy them!
CALENDAR TIME:
Calendar Time Activities : I have a ton of free downloadable calendar time activities available on my website. We like to go through and review our days of the week, months of the year, counting practice, patterning practice and more. We also use this time to review things previously taught and discuss our character trait focus for the week. I have some cards I received awhile back from We Choose Virtues and we focus on one trait per week. It would also be easy enough to make your own character trait cards as well! And you're welcome to download  and use any of my Calendar Time Activities here!
PHONICS:
K4 Curriculum: This is our main/core curriculum used for kindergarten. I love that it's hands on which makes it more engaging and fun for the kids. The K4 Curriculum is great for kids age 4-5 who are ready for Kindergarten. The curriculum introduces beginning reading, math and handwriting skills that will give your student a huge advantage as they proceed through their elementary years.
Upon completion of this program, students will have a basic understanding of simple addition and subtraction, place value, basic 1 and 2 vowel words, and beginning reading skills, logical thinking and much more! With this curriculum you also receive 34 weeks worth of daily lesson plans to help guide you through a full year kindergarten skilled activities. It comes with 34 weeks of Lesson Plans, and several added printables not previously available!
Library: I like to use the library to gather books that interest my child, we usually try to get a few beginning readers as well like BOB books. They are super short with beginning level words that encourage your child to begin reading on their own.
LOGICAL THINKING:
I like to use a variety of puzzles and games during our week. I think it helps students have more fun, and encourages them to think more strategically as well. A great place to find games and puzzles is at garage sales. We've found some of our favorite games for under $1!
A few other logical thinking games we've enjoyed are: Logic Links, Magnetic Color Cubes,  Picture Perfect game from Educational Insights, Alphabet Alley puzzles are great! They have large pieces and are very durable and cute too! Here's a sample of some of the fun games that we've played in our homeschool!
MATH: If you're using my K4/5 kindergarten there are plenty of math skill activities included, so you do not have to do any thing extra, these are just some additional ideas to help give you more options.
Math U See Primer: Most of you know we love Math U See and so I like to start early with it. The Primer level is a really general overview introduction to counting, number recognition and writing, shapes, and some patterning as well. It's a good fit for anyone looking for something fairly easy to facilitate as well. There isn't much prep work on your part, just watch the DVD and go!
Spielgaben: We've really enjoyed our Spielgaben set. It was sent to us for review a few years ago and has been a great way to encourage logical thinking skills, spatial reasoning, and creative play as well. It does come with a curriculum that you can use, and the Teeny Tot enjoyed getting these activities in her daily drawers. We aren't using it as much now that the kids are older, though I will find them in their building things occasionally. But I do like it for younger kiddos for sure!
I also have a variety of free math activities on my blog as well. Some of our favorite math games are: Domino Math, Living Math Games, Learning Resources Color Cube Activities, and you can see all of my free math printables here.
P.E.:
I don't really think you need to plan anything formal for PE at this age. I'm sure there are folks out there who differ with my opinion. But I've found that just planning for free play time each day has been sufficient for our kindergarteners. I like to take a short break after lunch for some outdoor free play time. We also plan things in the afternoons like going for a walk, to the park, for a bike ride, or just playing ball or Frisbee, etc.
Family Time Fitness: This is good for anyone looking for something more structured for PE time. I think it would also be great for use with a small co-op as well. They have daily lesson plans and also videos to help you with any questions on activities. Most of the activities can be done with a minimum of supplies, so you don't have to purchase anything fancy to complete the curriculum. If there's anything you don't have, you can also easily skip that lesson and move onto the next one.
READ-A-LOUD:
Read together often! We like to head to the library and get fun books to read together. I don't' use anything formal for read-a-louds at this age. I usually head to the library and pick books that interest my kids or that go with a theme we might be working on at school. Then we make some time each afternoon, or sometimes in the evenings to read our library books together. Reading out loud to your child helps them not only get interested in reading, but it also teaches them how to read with various inflections in their voice pauses for punctuation. It also shows them that they can read longer books, and gives you an opportunity to spend some quality time together too!
SCIENCE/SOCIAL STUDIES:
These are both optional for kindergarten, but if you want to add in more fun to your day, my Expedition Earth program is super fun for younger kids. It's full of fun hands-on projects, science experiments, recipes, history, art activities, and more that correlate with each country you're learning about. It's a fun way to travel the world while learning all about a variety of cultures, animals, famous landmarks, and people!
I also like the Usborne series of science books if you're looking for something a little less structured. They have Science in the Kitchen, Science with Water, Things Outdoors, & Science with Air.  They're a great way to include stand-a-lone science experiments without having to implement a full on curriculum.
If you want a more formal social studies program, Abeka offers a K5 History curriculum that is okay. They have a text book along with an activity book. The reading is short and simple, so not a lot of planning. But it's also not as engaging in my opinion, and for kindergarten I like to keep things a little more engaging at this age.
Evan-Moor History Pockets: One thing that we've enjoyed are the history pockets. I typically use them for my older grades as a supplement to whatever history curriculum we're using for the year, but they would also be a great thing to use for younger kids. The books include a short reading lesson, then a fun lap booking type activity to go along with the reading. They are available by grade level, and while they say grades 1-3 we have used them when our kids were in kinder, and they enjoyed them. The lessons are short, and you don't have to do much preparation other than make copies of any needed sheets for your students.
FINAL TIPS:
If your kindergartener is your oldest student I would suggest keeping things simple and engaging. Stick to the basics of reading, writing, and math but make sure to add in some fun crafts, art projects, cooking time, reading time, etc. Make your days fun and engaging, avoid boring worksheets there will be plenty of those later on!
If your kindergartener is not your oldest, I suggest incorporating them into your older students studies wherever possible. For example we all do science experiments together, or history projects. We also like to do read-a-louds together, Bible studies, and art projects. Of course I don't expect my kindergartener to write a report on ancient Rome, but they can certainly participate in building a 3D model of the Great Wall of China, help make a Rain Forest Diorama, and participate in a fun Egyptian Mummy experiment!
Additional kindergarten ideas: There are plenty of pre-printed kindergarten workbooks out there that you can use if you don't want something as structured. You can move through the workbooks as it fit your schedule. But like my suggestions in the preschool curriculum picks post, make sure to include lots of fun hands-on activities for your kindergartener as well. Lots of fine-motor skill things like cutting, pasting, coloring. And large motor-skill activities too. Kindergarteners like to get out and move around, sing songs, read books, learn about nature, and most of all have fun!
I hope this has helped you pick out your kindergarten curriculum, make sure to check out more of our top curriculum picks here!
Disclosure: This is not a sponsored post. However some of the links in this post may be affiliate links which means I get a small percentage if you purchase through my link. That said, please know that I do NOT recommend anything unless we like and use it!!