Good morning! Do you get nasty brown gunk on the bottom of your iron? Worried it might come off and stain your fabric? Before you toss out that old iron and buy a new one, I wanted to share a quick and easy method for cleaning your iron and making it look new again!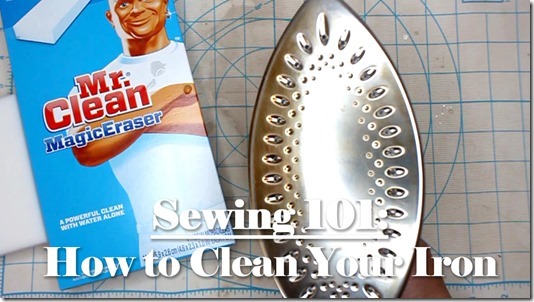 You will need:
Watch my video on How to Clean Your Iron here!
To clean the iron face:
Wet a Mr. Clean Magic Eraser and rub it on your iron face to remove tough brown stains.
To clean the iron steam holes:
Pour a mixture of 1/2 water and 1/2 white vinegar into your iron water reservoir and press your steam button to clean out the steam holes. Continue steaming the old towel until the steam holes are cleaned out.
And that's it! Super easy and it only take about 5 minutes to get your iron cleaned up and looking like new!
Have a tip to share or a video suggestion? Make sure to leave a comment below!
If you just tuned in, here are more videos in my How to Quilt Series!
Here are a few more of my Sewing Tutorials online if you're just getting started:
To keep up with our shenanigans, feel free to follow me: