Good morning friends! Want to see what we do on a daily basis for 2nd grade? I've had a lot of requests for another What's in the Workbox Wednesday post, and so today we're taking a look into Miss Ladybug's boxes.
She does complete all of these activities each day, with the exception of art. That is currently only done once a week.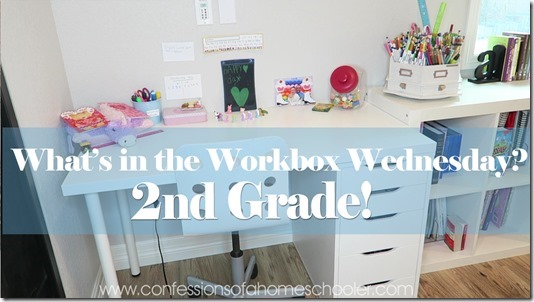 Let's get started: Watch my What's in the Workbox 2nd Grade video here!
Drawer #1:
1) Just like the other's, her top drawer houses our expandable drawer organizer and it holds all of the pencils, glue, erasers, etc. It hangs on the drawer sides, so it can slide back and forth out of the way which is a nice feature. It also expands/contracts to fit most drawer sizes.
2) This drawer also holds her Grade 1-2 Word of Life Daily Devotion.
3) It also has her weekly assignment printout. I get a lot of questions on this, and it's just a report printout from www.homeschooltracker.com that I print and spiral bind for them. Granted a few things changed since we started the year, so you might prefer to print this out on a weekly basis, but for the most part it works to help him keep track of her daily workload.
I forgot to show it, but she also has her Daily Learning Notebook (You can choose either Elementary level manuscript version. or Elementary cursive version, I normally do cursive in third grade.) – These are free downloads found on my blog, and they come in a variety of styles. I have an elementary specific one I like to use for ages 6-11. I also offer them in a variety of languages if you've already done the elementary notebook and want something new! It's just a fun way to cover a variety of skills each day.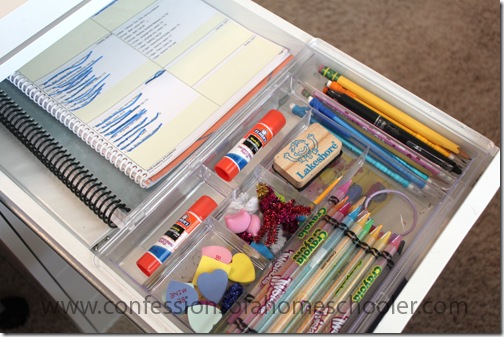 Drawer #2:
Drawer 2 is our math drawer. Miss Ladybug is currently using Math U See Beta (the orange books under the box of blocks). I normally pull out each day's work for her so she knows what to do.
She is also working through the Kumon Dollars & Cents, and the Kumon Telling Time book. Math U See does cover these topics, but she  really needed some extra work on them and these books are great for that. One thing I particularly like is that they're in color, so that has helped her with money quite a bit.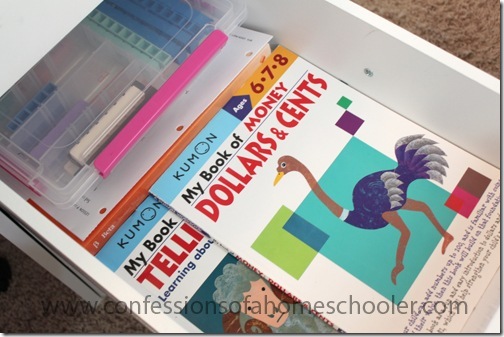 Drawer #3:
In her third box I keep her Abeka Letters & Sounds 2 and Language 2. I also put the Abeka Basic Phonics Flashcards for her to review each day as well. I normally pull each day's worksheet out and put it on top of the books. But I wanted you to see which one's she was currently working on.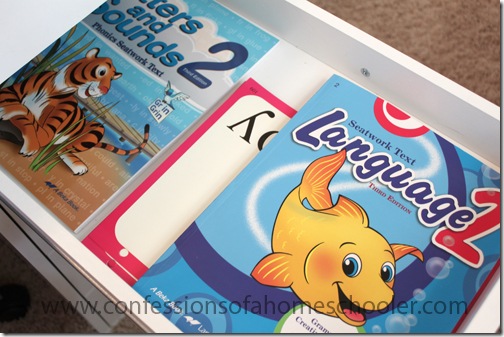 Drawer #4:
In her next drawer we keep her Vocabulary Workshop Purple. I think you can find them for less on Amazon or Christian Book, but I just wanted to show you a link so you could see what she's doing. She does one worksheet per day. So far we like these sheets. Each topic comes in sections. So you learn the words, do sentences and other activities, then do a quiz.
She is also working on All About Spelling, but since it's teacher led, there's nothing in her box for it. She also does a Spelling You See worksheet each day as well.
Drawer #5:
Her art, and whatever Literature Unit we do are kept in this drawer. She's currently reading Wind in the Willows, but this switches out as she moves through the units. This year she's doing them independently, so she reads 1 chapter per day (unless otherwise indicated on the teacher's manual) and then completes her mini-book and adds it to the lapbook herself. When she's done, she shows me her work and we check the mini-book to make sure she did it correctly. Here are a few links to our unit studies:
What's not in her boxes?
This year we used Abeka's 2nd grade history and science. They're not in her workboxes anymore however because I didn't really follow their schedule, and so we already read through them both!
She also participates in a once per week options program where she is taking Language Arts, Science, Spanish, PE, and music. If you're wondering about the options program, you'll want to contact your local school district to see if they offer an options program for homeschoolers in your area.
She also does ice hockey and swimming, so I think we're busy enough for my taste!
Anyway, that's it for Miss Ladybug's 2nd grade workboxes. I hope you enjoyed this video!
For links to all of Miss Ladybug's 2nd grade curriculum make sure to check out our 2016-2017 2nd Grade Curriculum post here!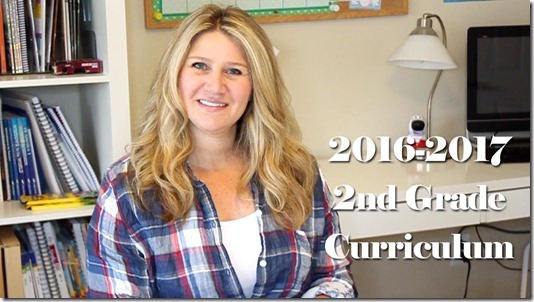 To keep up with our shenanigans, feel free to follow me:
Want to see more of my Tip Tuesday Videos? Make sure to click the image below to check out all of my homeschooling tips!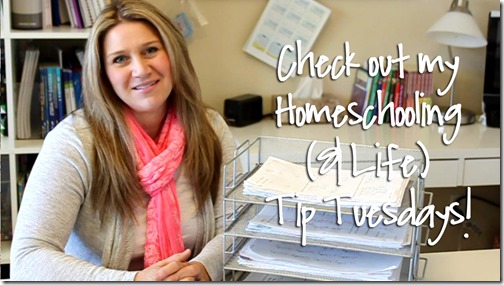 I hope this helps some of you out, I know getting started can be overwhelming! I wrote a book called Homeschooling 101 that will help answer all of your questions on how to get started homeschooling, choosing curriculum, creating lesson plans, etc. For more information on homeschooling check out my Homeschooling 101: A guide to getting started!