Hi everyone! I'm back today with another Homeschooling 101 post for you! Last time around we discussed Student Organization. And today we're going to talk about homeschool storage solutions and a few extra things too!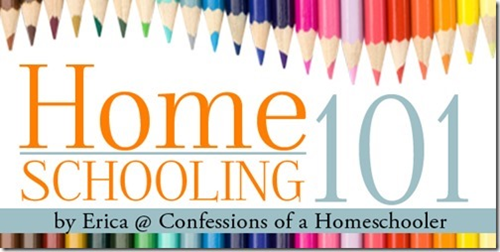 Student Work Long Term Storage.
The records you are required to keep will be determined by your state requirements. Most states do not make you keep everything for each year. However, many will request an attendance sheet showing hours and days completed for each student. Some states will also require a list of curriculum used each year as well. Find out what your state laws are before you delve into the practice of storing all of your student's work. You'll find that it adds up quickly and many of us don't have the storage space required to keep all of everything over the years.
For the time being, I have chosen to keep our work for my own fond memories. I also have a hard time throwing out a full year's worth of sweat and tears! So for now, I have purchased banker's boxes to store my students' completed work in.
At the end of each year, I remove all of the paper, artwork, and anything else they've done and bind it together using a rubber band, or string. I put a strip of paper on the front of the bundle indicating the student's name, year, and grade level of the bundle. Then place that bundle in the banker's box for that student. Each student has their own box full of work from previous years. The boxes are clearly labeled with their name, and what years of work it contains.
Click here to read more about our long term storage solutions!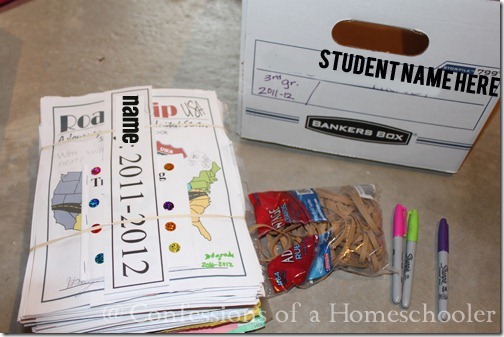 Curriculum Long Term Storage.
I use banker's boxes to store any curriculum that isn't currently in use. For us this is mainly curriculum we will use in the future and I'm not ready to sell yet. I label the boxes by subject. So for example I have a "Math" box that contains all of our math curriculum in grade order. Since we do some subjects together, and some individually based on grade, having them separated by subject makes it makes it easier for me to see what I have.
For example our math curriculum box (above) has the curriculum we use for math for Kindergarten through our current grade (or however many years will fit!). Keeping the boxes sorted by Curriculum allows me to easily grab the grade level as needed or see that we don't have that grade level and I can then order it for our upcoming year.
Some people might prefer to box their curriculum by grade. You are free to use whatever organization makes the most sense to you. I have found that organizing my curriculum helps greatly when planning for an upcoming year. It's easy for me to see what I have and what I will need to purchase for that year. It also keeps me from purchasing duplicates of something because I couldn't locate it. Organizing your curriculum is also helpful when getting ready to sell old materials as well.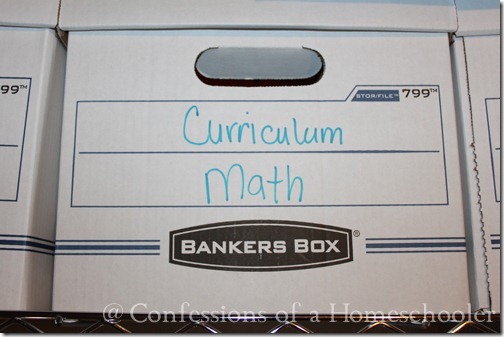 School Supplies:
I must admit I'm a total school supply junkie! I love everything about new school supplies, love to shop for them, love to organize them when we get home, and love to pull them out on day one!
As a homeschooler we have the freedom to purchase whatever we need, we don't have to go off of a required list. And we are also buying supplies for our own children to use in our own homes. This makes shopping a little more fun. We can purchase colorful things, let students pick out what they like, and know that the supplies we're purchasing will go to good use.
Here is a list of some of the supplies we purchase almost every year to help you get started. Wherever possible I let my children pick the things that they like so they're also excited to start school.
Click below to see more about our frequently used supplies!
Homeschool Supplies & Organization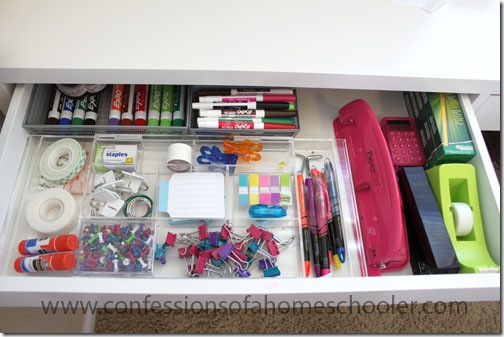 Want more information? Check out Homeschooling 101: A guide to getting started!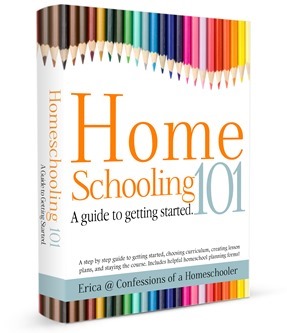 If you've missed my previous posts make sure to check them out!