Yay it's here! December is here!
I love twinkle lights. I love baking cookies. I love decorating. I love gift wrapping and gift giving. I love Christmas crafts. I love those festive red cups my coffee now comes in. I love snow shoveling. Wait a minute. I do NOT love snow shoveling. But that's a dilemma I'll have to work out another time.
Anyway, you get the idea. I can't wait for this time of year, and am so excited for all of the goodies I have planned for you all this month! Make sure to stay tuned because we've got special treats for you all month long. There will be video vlogs of our daily lives, some great holiday DIY projects, recipes, crafts, and more!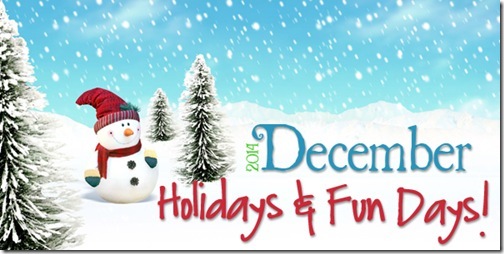 But the reason we're here today is because it's time for my December holidays & fun days post!
So let's get on with it shall we?
Holidays:
December 7: Pearl Harbor Day
December 12: Poinsettia Day
December 16: Chanukah lasts 8 days
December 21: Winter Solstice (The shortest day of the year)
December 25: Christmas Day
December 26: Boxing Day
December 26: Kwanzaa
December 31: New Year's Eve
Fun Days:
December 4  Santa's List Day
Make a list of ways that your children have blessed those around them and give it to them in a special note today to encourage them!
December 5 Bathtub Party Day
Busy mama: Grab some bubble bath, maybe a candle, and a book, and treat yourself to a bath today!
For kiddos: Get some fun bubble bath, and maybe even bath tub crayons and let your little ones have an afternoon treat!
December 6 St. Nicholas Day
December 6 Mitten Tree Day
Read The Mitten by Alvin Tesselt
Draw a tree on green construction paper and cut out. Paste your tree to a blue construction paper. Dot on snowflakes using a Q-tip and white paint. Then have students make unique mittens using construction paper. Glue them on to decorate their tree.
Classrooms: Have all of your students bring in a pair of mittens and take them to the local donation center to bless those in need.
Homeschoolers: Collect mittens from friends and family to donate to your local center.
December 7 National Cotton Candy Day
Head out for a treat of Cotton Candy today. Make sure to brush and floss afterwards!
December 7 Pearl Harbor Day
December 8 National Brownie Day
Make some homemade Nutella brownies today and share them with friends and neighbors! YUM! (This post is for valentines day, but you can add any holiday themed decorations or just deliver them plain!)
December 9 Christmas Card Day
It's time all you procrastinators out there! Get your Christmas cards out today. Here are some of my favorite places to get cards from. Hallmark (They'll even stamp and mail your cards!), Costco, Shutterfly
For the kiddos, have them hand make cards for family and friends this year. Supplies: Construction paper, stamps, markers, scissors, glue, glitter, sequins, and any other fun embellishments you have on hand!
December 12 Poinsettia Day
Poinsettia Day was officially declared by an Act of Congress in honor of Joel Roberts Poinsett who was the first Ambassador to Mexico. It now serves as a recognized symbol of Christmas. Fill your kids in on who Joel Roberts Poinsett was, and make a fun poinsettia craft!
December 13 Ice Cream Day
December 15 Bill of Rights Day
Take a moment today to discuss the Bill of Rights with your kiddos!
Have students pick their favorite Amendment, then create a poster with an illustration and description of that Amendment.
December 16 National Chocolate Covered Anything Day
December 18 Bake Cookies Day
December 19 Look for an Evergreen Day
Even if you don't like cutting down trees, you can still take a nature walk and see if you can spot the most perfect evergreen! If you don't live in a region where these beautiful trees exist, pick a tree native to your location and head out to find the best one!
December 20 Go Caroling Day
Make some hot cocoa, throw on a coat, scarf, hat, and gloves. And head out to go caroling around your neighborhood!
December 20 Mini-Van Express Ticket Day!
Okay, I just made this one up to see if you were paying attention. But today would be a great day to hand out some Mini-van Express Tickets to your kiddos and go check out all of the festive holiday lights in your area! Don't know what that is? Click here!
December 21 Forefather's Day
December 21 National Flashlight Day
Take this opportunity to locate your flashlights and make sure they have good batteries so you don't get caught in the dark! Literally!
Maybe even throw in a little study on Thomas Edison who invented the first light bulb, and Joshua Lionel Cowen who invented the flashlight.
December 24 National Chocolate Day
Okay, so I'm going to suggest eating a little chocolate today. Can't hurt right? Unless you're allergic. Then don't eat any.
December 24 National Eggnog Day
Make some homemade eggnog, or grab a carton from the local grocery store. Enjoy it as an after dinner treat tonight!
December 25 Christmas Day
Celebrate the birth of our Savior, Jesus, with friends and family!
Have a birthday cake and sing happy birthday to Jesus today!
December 25 National Pumpkin Pie Day
December 26 Boxing Day
What is Boxing Day? Learn all about it here!
December 27 Make Cut Out Snowflakes Day
December 27 National Fruitcake Day (Seriously, there's a day dedicated to fruitcake?)
December 28 Card Playing Day
With all of the Christmas hubbub coming to a close, today would be a great day for a family game night! Break out the card games, and even board games, and have a family night in!
Looking for more fun Christmas ideas? Check out my posts from previous years here:
I hope you enjoy these posts, and stay tuned for some awesome December activities coming your way!