Well, I'm just going to keep adding to the fun today with a brand new Free Advent Ornament Printable for you all! I did one a couple years ago and everyone loved it, but I think it needed a facelift! So without any further ado…I created a fun Advent banner!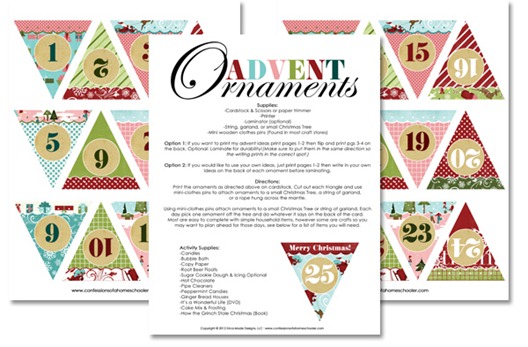 –> Click here to download the 2012 Advent Ornaments! <–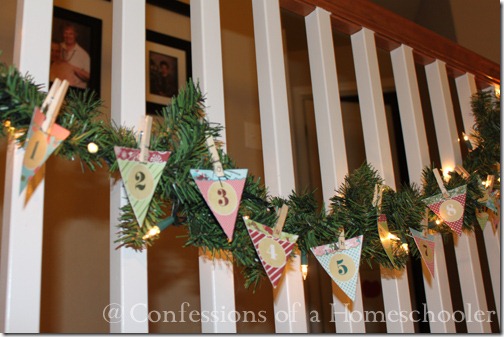 (Art Work: Santa's Sleigh digital scrapbook kit used with permission from Carina Gardner. Santa Basics kit may be purchased from www.jessicasprague.com. These printables may NOT be re-sold or re-distributed in any way, they are for your own personal use only.)
Supplies:
Cardstock & Scissors or paper trimmer
Printer
Laminator (optional)
String, garland, or small Christmas tree
Mini wooden clothespins (Found at most craft stores)
Directions:
Print the ornaments as directed on cardstock then cut out each triangle and laminate for durability. Use mini-clothes pins to attach ornaments to a small Christmas tree, a string of garland, or a rope hung across the mantle!
Starting on December 1st, each day take one down and do whatever activity is on the back. For this you can print my activities on the backs (they are included in the download) or you can print just the ornaments and write in your own activities.
Most activities are easy to complete with simple household items, however some are crafts so I included a craft list in the printable to help you get prepared!
Here is a sample of one of the activities printed on the back of day 8.
If you're curious…here's the activity list for our Advent Ornaments:
1. Candle lit bubble bath!
2. Make paper snowflakes & decorate!
3. Fill Operation Christmas Child Boxes
4. Make personalized Christmas Ornaments
5. The Minivan Express
6. Rootbeer floats tonight!
7. Make Christmas cookies!
8. Make Christmas Cards for friends/family
9. Have hot chocolate and marshmallows
10. Make a pipe cleaner candy cane craft
11. Make Christmas Star Paper Chain
12. Make Candy Ornaments
13. Gather old coats, clothes, and toys to donate to your local shelter
14. Family Game Night
15. Make a Gingerbread house
16. Dance and sing to Christmas Music
17. Make a christmas craft
18. Dress Fancy for dinner tonight
19. Wrap Christmas Presents
20. Watch "It's a wonderful Life"
21. Take a night drive to see the Christmas lights in your neighborhood!
22. Watch a Christmas movie with popcorn of course!
23. Read or Watch How the Grinch Stole Christmas!
24. Make birthday cake for Jesus!
25. Merry Christmas!
Looking for some more fun Advent ideas?
Last year we did The Jesse Tree and I ordered some Make your own Advent Candles and Bartholomew's Passage. I have to say that these candles didn't come with any instructions, so if you're a newbie like me here are some instructions on making Beeswax Candles!
We'll light the candles each night as we read a chapter from our book. If you're not up for purchasing a new book, you can always read any Christmas Story and on Christmas Eve read Luke 1-2.
Here are some more Christmas Ideas: